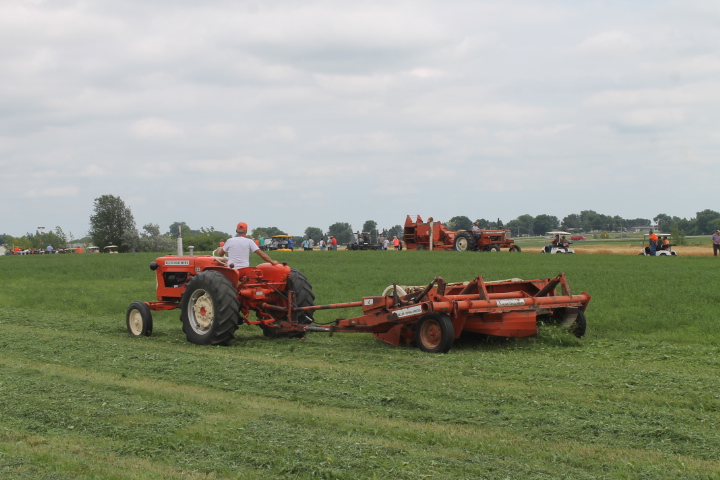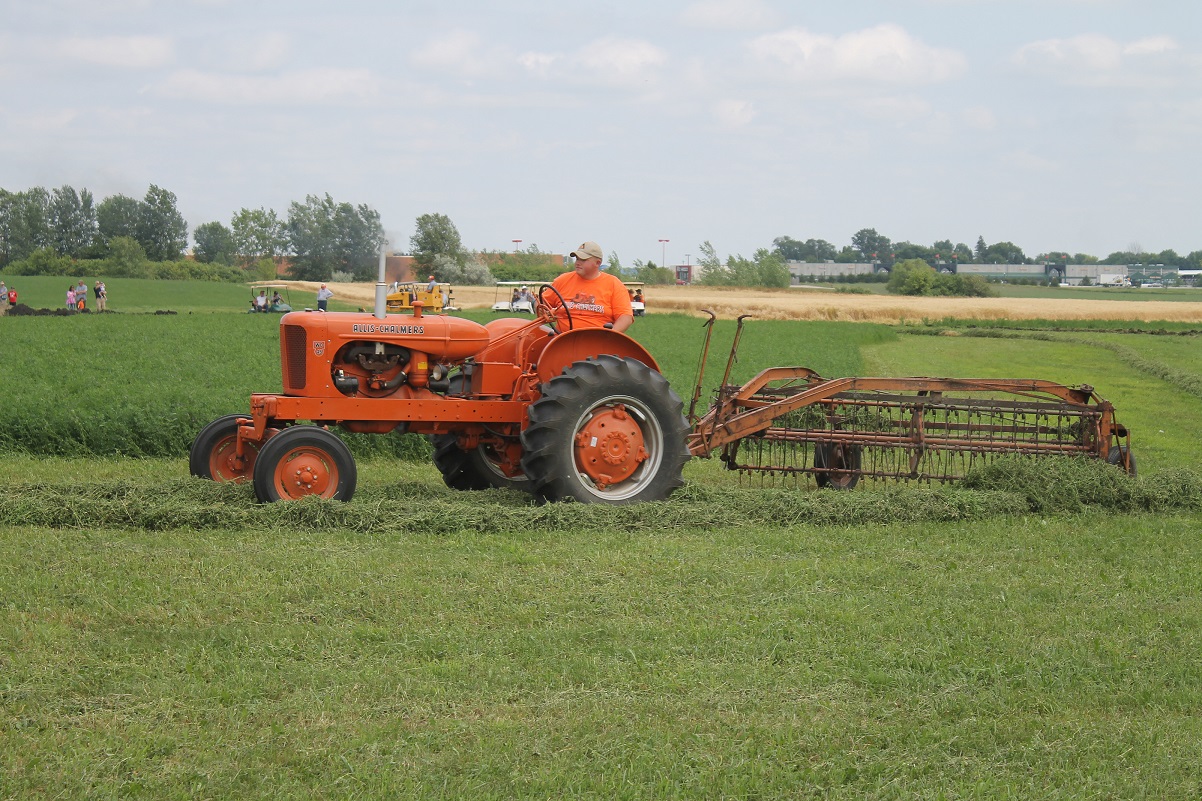 Field demos from last year's Orange Spectacular...
July 5 - Are you planning to attend the 25th anniversary of the Orange Spectacular? Do you havae any events you would like to see...or have seen??? Let us know if you have any ideas? The Upper Midwest A-C Club membership and board are trying to prepare. Yesterday, Luke Olson of Elmwood, Wisconsin, (www.Olsontractor.com) just completed the 2016, (the 25th Anniversary of the Orange Spectacular Raffle Tractor). Check it out below!
Thank you Luke for time and talent you have put into this restoration!
Do you want to see the 25th Anniversary Orange Spectacular Raffle Tractor...2016?
Plan to attend to this years Orange Spectacular!
It will be on display near the raffle ticket sales of the Indoor Tractor Display building
Don't forget to support this year's show by purchasing a $2.00 raffle ticket to win this D15 or $4000.00 cash
July 4th - Come on....try your tractor in Saturday night's tractor pull, on July 25th. If you have never tried it.....see what the experience is like as you pull up onto the track......back your tractor up to the sled....as you tighten up the sled's chain, the adrenalin starts to flow through your body....Bob Paulson holds his flag up....he checks to see if you are ready.....YOU ARE READY!!!! He waves you to start...you slowly let the clutch out.....you open the throttle.....and the tires start to dig! The crowd of 300+ people are cheering for you. You are getting closer to the 300' mark....you are almost there and your horsepower loses traction and Bob drops the red flag.....You did your pull and you tried your best! So....are you ready to try it??? Let's have the most pullers than what we have ever had in the past! We have track lighting.....so we can go late!
PULLERS - checkout the "2015 Tractor Pull Rules" page (on the left) or click here (http://www.orangespectacular.com/2015tractorpullrules.html )...GET YOR TRACTOR READY!!! A QR code will developed and displayed on the show grounds, being made handy for anyone using a "SMARTPHONE" to scan the QR code and read the 2015 Tractor Pull rules prior to pulling.
July 4th - As we celebrate good times, picnics, and other outdoor activities, let's not forget why we celebrate this day, July 4th! This day is celebrated to remember and give thanks for our freedom. Remember those who gave their lives and for the dedicated and fearless veterans, who believed they needed to fight for our country's freedom.
If you see a veteran or an active enlisted citizen of our Armed Forces, please acknowledge the person by thanking them for their dedication and their time to protect yours and my freedom. Thank them by STANDING while the colors pass you during a parade. Or thank them personally for their service while in an airport or somewhere when you see them. Or shake their hand, look them in their eyes and show your appreciation.
To all of our unsung heroes, "Thank you for giving us your dedication to the United States of America to protect our freedom we have, which we may take for granted daily. We celebrate today to remember our freedom and to remember how we achieved that freedom"....freedom does not come easy.... Fly the Flag today (no matter how big or how small) to show your support and that you respect our freedoms we have in this strong country of the United States of America.
To our veterans and present enlisted members of the armed forces....You have a salute from me for your dedication to save and maintain my freedom I have daily.....Randy Larson
June 30- Check out Glenn Bridges' page....it is about the green tractors. Click on the link to read his story. http://www.orangespectacular.com/bridgestokentucky.html "Thank you Glenn for your talent and information!!!!!"
June 30 - We would like our collectors know, we are looking for some of those new models for our show. Do you know anyone who could bring a 5000 series, 6000 series, 7000 series, and/or an 8000 series? Please let them know they are welcome.....we don't get those models coming in! Let's start....
June 30 - Tractor ride this year, on Friday night; from the Showgrounds and around Hutchinson. Director Bob Paulson, Tractor Ride Coodinator, can give you more information if you have any questions. bpaulson@orangespectacular.com or give Bob a call at (320) 327-2800. Yes, we will have people movers going on the trip for our guests who prefer to ride and not drive. This is such an exciting event to see so MANY guests enjoying themselves! Plan to ride along or bring a tractor and plan to attend our tractor ride, July 24th, 2015. Pray for a warm and dry evening...
June 29 - Plan to attend the 24th Annual Orange Spectacular and visit the Toy and Craft Show and find something you have been looking for...
While looking for a special gift....checkout the variety of Toy Farm Settings. Jeff Borth and Jared Golombeski coordinate quite the displays. Do you want to or know someone who has a display??? Call Jeff at (507) 766-0402 or Jared (507) 330-4790
June 29 - Plan your wish list for parts, manuals, and whatever you can find in our Swap Meet while you are at the 24th Annual Orange Spectacular...we plan to have over 40 swap meet vendors.
Picture are compliments of Wayne Stoddard of Waverly, Iowa....Wayne has taken two (2) years of video using a drone. Look at more videos as you go to "2014 Show Memories" On in the page....scroll way, way down to view Wayne's videos.
You may even find a farm or lawn & garden tractor or a piece of equipment to buy in the Swap Meet.
June 29 - Looking to attend another large Allis- Chalmers tractor show, in southern Wisconsin?
This is a family collection! Check it out!!!
Pray for good weather...as many of us know, it is NOT an easy job to set-up any tractor show! Thank you to the Durst family for helping to keep the Allis-Chalmers name famous
June 27 - ATTENTION AIRPLANE PILOTS!!!!! Why not fly into the Hutchinson airport and attend the 24th Orange Spectacular, June 24-26! Need are ride from the airport to JUST across the road to the show grounds? One when you land, give me a call (715) 855-7542...and I will come over ASAP (minutes), pick you and others up at the airport, bring you to the show, and take you back to your plane when you are ready to leave! When you leave.....do a fly-by at the show!
June 26 - We are still looking for assistance to sell raffle tickets Friday, Saturday and Sunday for a couple hours each day. Please call Rhonda ASAP for exact times needed.....(715) 723-1908. Please help out your club for future shows.
June 25th.....One month from TODAY, JULY 25th...The 24th Orange Spectacular will be well under way...ARE YOU READY?????
June 25th - Look what Ken and Jason Holz are up to as they promote to raise more funds for the Scholarship Fund
The following article was written by Ken Holz for the 2015 Summer Newsletter
2015 SCHOLARSHIP AUCTION
Once again we will holding an auction to raise funds for the Upper Midwest AC Scholarship. Details on applying for the scholarship can be found elsewhere in the newsletter, as well as on this website. This year we made some items to offer at Auction on Saturday evening at 8:00 PM at the Tractor Pull. The featured item will be custom built wagon, with tandem running gear, and treated decking. We will be selling both. These look great behind a garden tractor on display, hauling the kids around, or going through the parade. There will also be some smaller AC related items offered that will be finished by the show.
We will also be offering opportunities to purchase sponsorships for the 2016 garden tractor to be auctioned off at our 25th Anniversary Show next year. We will be restoring an Allis Chalmers B-12, which will be 50 years old in 2016. The B-12's, along with the late B-10's were only made in 1966. The B-12 is easily recognized with the wider front tires, the "Bumble Bee" decal, and the unique seat. Sponsorships will be available from $5 and up.
We will see you at the Auction, July 25, in the Grandstands at The 2015 Orange Spectacular, Hutchinson, MN.
On behalf of the Scholarship Committee, thanks for your past, and continued support.
Ken Holz
Thank you Ken and Jason for your continued support to raise funds for our upcoming applicants as they support the agricultural industry.
We are looking for applicants.....find the application here on the website and our newsletter!
June 20 - We are planning for the 25th Anniversary...are you?????
We need your ideas!!!! I have had a couple people talk to me about ideas....We need more!!!!! Ideas for music, activities, tractor games, displays, children activities, flea market, contests, etc.....
Well, Olson Tractor Restoration of Elmwood, WI has been preparing! Luke Olson, owner of Olson Tractor Restoration has been working on the raffle tractor for 2016, 25th Anniversary Orange Spectacular.
Checkout the pictures below...
The start, tearing the D 12 down....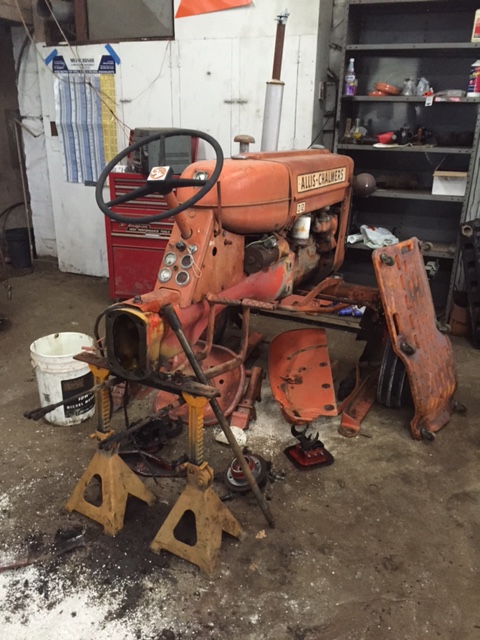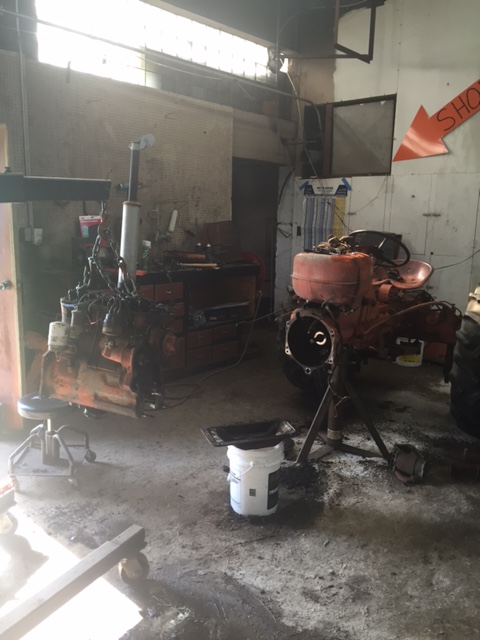 Then the sand blasting happens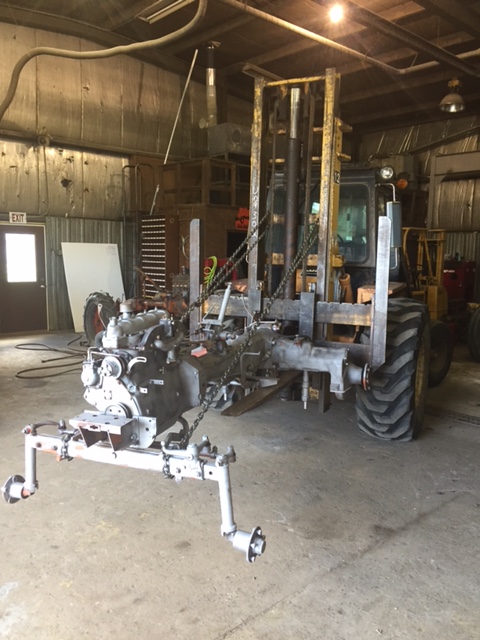 And finally...paint!
June 20 - From Ken Holz- Outdoor Products Coordinator - "OUTDOOR PRODUCTS SHOW UPDATES
We will be featuring the Big Ten tractors this year as they are 50 years old. In addition we will feature vertical shaft riding mowers (Homesteaders, Scamps, 207, 208 etc).
We also plan to have an informal BS session in the Outdoor Products display area each day at 11:00 AM for the SimpleTractor members in attendance. One of the Club officers is planning on coming, so we want to show our support. This will be a good time if you want information about joining the SimpleTractor group." Plan to attend this important gathering at the Outdoor Products Building #9
June 16 - Lookout for "license plate tag thieves". My mother just recently noticed her license plate renewal tag had been removed. She, as many others, will place our license plate renewal stickers over the previous year's sticker. She noticed the other day, that her car's license plate is now "only good" up to May of 2007......Someone took a knife or razor blade, peeled the "pile" of past years' renewal tags down to the 2007 sticker.....so someone is driving around, my home area, with an expired registration BUT it looks like their license plate is currently up-to-date.
She has gone to the D.O.T. to get a new renewal tag and had the stolen one replaced. This is something that is common.......The D.O.T. recommends to scrape the old year off your license plate and put the new one on it the previous years place.
May 28 - Need an auctioneer? https://www.youtube.com/watch?v=ByK7kRR8hok
May 25 - The Orange Spectacular is all about big AND little tractors
May 13 - Does anyone know anyone who does micro-mini tractor pulling?
May 13 - This would be neat to have at our show! Anyone know of people who have such toys, if so, please let me
know. This would be a great attraction!
February 28 - Austin Fredrick has posted information about the Allis-Chalmers fuel cell tractor...what a science accomplishment! Austin's article can be found at https://austinfrederick.wordpress.com/2015/02/28/allis-chalmers-fuel-cell-tractor/
Austin has attached a video of the tractor and its technology, too. https://www.youtube.com/watch?v=v9peJne24lM NICE JOB AUSTIN!!! Have you ever seen the fuel cell tractor??? If not, it is on display in Hutchinson, MN....per Austin, ...."After its tests were conducted, Allis-Chalmers donated the fuel cell tractor to the Smithsonian. The tractor is currently being loaned to the McLeod County Historical Society in Hutchinson, Minnesota, for display. If you attend the annual Orange Spectacular in that city, be sure to take a quick detour to see this piece of technological
history.
How about some 25th anniversary ideas and input....still looking for an Anniversay Committee to be put together and help me take care of special events to be done July 2016.


Febraury 15 - Look...Plan....Attend....
38th ANNUAL
PIERCE
OLD TIME
THRESHING BEE
Featuring Allis-Chalmers Tractors and Equipment
Saturday & Sunday - September 12 - 13, 2015
Pierce County Fairgrounds
Pierce, Nebraska
An Allis-Chalmers D14 will be a raffle tractor
For More Information Call:
Elwood & Marilyn Meier at 402-329-4245
Mike Kroupa at 402-329-6929

February 1st - Can you help locate this tractor???


February 1st - Where are they?? As the Upper Midwest A-C Club prepares to celebrate the 25th Anniversary of the Orange Spectacular, we are looking at special events (we need your ideas too). So to help celebrate this milestone, the club would like to find the winners of OR the present owner of our past raffle tractors. It will be quite a feat, but have as many if not all, of the past raffle tractors on the showgrounds on the 4th weekend of July 2016. We need your help....do you know the following winners or do you know where the following winners/tractors are?
Show of 1994 - The "B" raffle tractor was won by Bill Becker of Foristell, Missouri
Show of 1995 - 1944 "C" Allis-Chalmers - Ted Nichols of Elk River, MN. Was called by phone
Show of 1996 - CA Allis, Anton Peltzer of Ramsey, MN
Show of 1997 - Raffle tractor "G" – Ray and Lois Tuma, Lonsdale, MN
Show of 1999 - D- 12 – Glenn Sider, Canada
Show of 2000 - 1959 D-10 - Nancy Dobratz - Watertown, MN
Show of 2003 - WD 45 Diesel Tractor, Philip Lewis – Louisville, IL
Show of 2005 - AC D-17, Duane Campbell, Currie, MN
Show of 2007 - AC 1952 IB, Has been sold to Chuck Smith, Oelwien, IA
Show of 2009 - AC 1962 D-10 Series II, Douglas Anderson, Finland,MN
Show of 2010 - Series II, D-15, Brandon Bursack - Canby, MN
Show of 2011 - Series II, D-10, Jared Groth - Garber, IA
If you know any of the above posted winners OR where the past raffle tractors are...PLEASE, contact me as soon possible, so we can plan to coordinate to have these tractors on the grounds for display in 2016. Contact me by phone at (715) 723-1908 or at rlarson@orangespectacular.com . As for winners not posted, I have their contact information available. I plan to personally invite them to attend our 2016 show and bring their prized possessions, including the raffle tractor of that year. We appreciate your cooperation and assistance!

January 20 - Ladies....we have a quilt contest coming up! We will be featuring AND displaying the competing quilts at the 2016 (our 25th Anniversary) Orange Spectacular show. Intersted in making a quilt and being part of this exciting event? Please see the details on the side menu and click on the like "2016 Quilt Show and Rules". It is just not quilts...there are OTHER CATEGORIES, too!!!! Check it out!!!!!!!!!!!!!!!



2016 has become closer to becoming reality....July 2016 is the Orange Specatacular's 25th Anniversary....Your board of directors wants to make this 25th show to be a real milestone!!!! Can you help with making the 25th a huge success? Let me know if you could help take on a couple of activities/ideas for coordination? We are looking for an Anniversary Committee to come to together, come up with ideas, designate respondsibilites to other assistants, etc... Communication with this committee can be done with email and phone calls....I would be MORE THAN HAPPY to assist the Anniversary Committee in any guidance....we are only a 1 year away....