Upcoming Events
2018 toy for Orange Spectacular......80 toys and they are all gone.

Silent Auction for 616 lawn tractor $1,300.00 contact Darrell Grams to place bid today.
Darrell Grams phone number to place bid......612.280.3397
Spring Membership Meeting
April 14th, 2018 at 1pm
Location: McLeod County Historical Museum
380 School Rd NW, Hutchinson,MN 55350
-3 board members are up for election (Craig Buss,Randy Larson,Terry Nowak)
-There will be two open seats on the board of Directors as Randy and Terry have decided not to run.
- Approval of bi-laws (have been rewritten)
-Lunch will be served at 12 noon before the membership meeting
-The Board of Directors meeting will be prior to the membership meeting
2018 Spring meeting voting information.
---
The Upper Midwest A-C Club is making a 1/16th scale die cast 444 Allis Chalmers square baler with thrower attachment for the 2018 show "Orange Spectacular".
Please see the 2018 Orange Spectacular show toy tab for additional details and to download this form.
---
Raffle Tractor for 2018 is a 1963 D15 Series II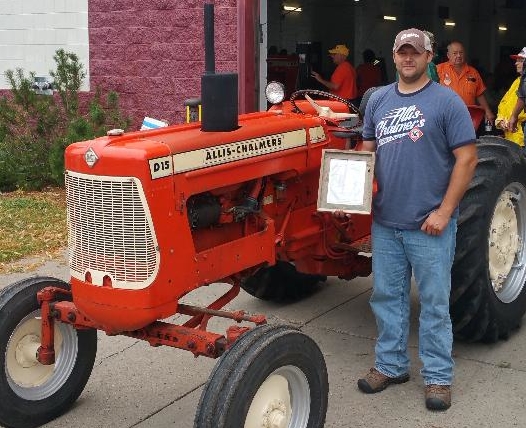 This year's show will feature original tractors
Picture is of 2018 Raffle Tractor and previous owner Andy G.
---
Sunday, September 24th 2017 Silent Auction of 616 Allis lawn tractor. The club decided to sell 616 through silent auction. Bidding increments of 5$ as a minimum. Contact Darrell Grams to place bids, the web site will be updated weekly. Darrell's email is dgrams@frontiernet.net or by phone at 612.280.3397, the bidding will end July 29th 2018 at 3pm, Sunday of the Orange Spectacular. Please see the 616 Silent Auction 2018 tab for further details. Thank you for your bid!