5/31 - From Heidi and Dave Clausen - WE'RE GOING TO ALASKA! Through my work with The Country Today, Dave & I are planning to host a 13-day ALASKAN ADVENTURE, June 19-July 1, 2017. This will be a land tour with agriculture highlights (dairy farm, reindeer farm, vegetable farm, etc.), followed by a cruise aboard the Star Princess. Other features include Denali National Park, Mt. McKinley and Hubbard Glacier.
Full details can be found on the brochure at www.vikingtvl.com/uploads/2/3/3/9/23397122/6-17_alaska.pdf
5/27 - Do you need an electric fencer repaired ? I needed parts of a fencer, so I found and called this place as I had found it on the internet...The Fencer Shop - Electric Fencer Repair, Kevin Blasé of Polk, NE. When talking with this gentleman, I found he is VERY knowledgeable in fencers and has parts...old and new. Very courteous, too. Check out the new link on the left side of this page. Click on the link and check it out.... http://www.thefencershop.com/
5/25 - I just received this tonight. AWESOME JOB to Ken and Jason Holz, Mike Richter, and Ron Erickson!!!!!
2016 SCHOLARSHIP SILENT AUCTION
New this year we are having a silent auction on some smaller items, with the money going into our Scholarship Fund.
This 7000 series toy tractor was customized and donated by Mike Richter.
Mike, nice job so far. Can't wait to see what the final product will look like!!!!
Stop by Mike's display in the toy building to see and bid on this item.
There will also be some other items displayed at Mike's table that will also be included in the silent auction. Unfortunately they are not complete enough to include at this time. Stay tuned to the website, as we will get them on there when pictures are available.
All items will be displayed, and bids taken Friday, and Saturday during normal Toy Building hours. The bidding will close Saturday when the building closes. The winning bidders will be announced at the beginning of the Tractor Auction Saturday night, at 8:00 PM. We would like if the winners could attend the Auction to take possession, and settle up.
Thanks from the Upper Midwest Scholarship Committee.
Ken and Jason Holz along with Ron Erickson have done professional job of restoration with the Scholarship Auction Lawn and Garden tractor
5/25 - Chip Grube of Minnesota sent me an email stating he is planning to bring his One-Ninety for t he 25th Anniversary of the Orange Spectacular. He has had a two page article published in The Allis Connection on their history with the 190 and a couple of XT's that we had.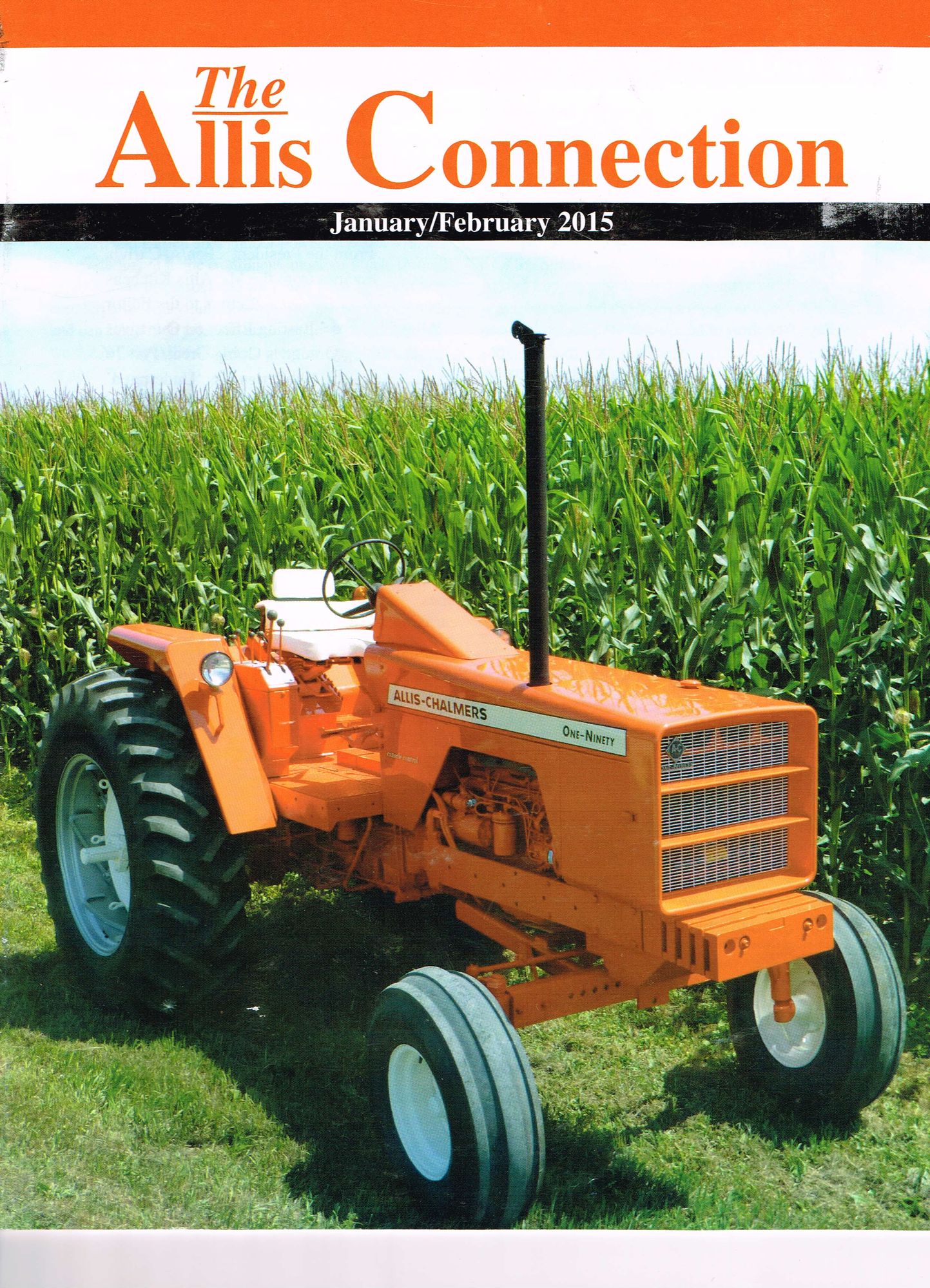 He shared with me some videos he has posted on Youtube. I thought you may enjoy the videos as much as I did. Check the videos out....you may have never seen an Allis-Chalmers engine driving irrigations pumps. Chip sent some other videos, too. Just click on the links. Thank you, Chip!
https://www.youtube.com/watch?v=Li_5ek4KhV0 - 2013 irrigation season begins
https://www.youtube.com/watch?v=-rikzVTNSSo - Corn Shelling at Heritage Hill, Montevideo, MN
https://www.youtube.com/watch?v=oETw7bLQdbs&feature=youtu.be - WD on the threshing machine
https://www.youtube.com/watch?v=abS5mySMVeQ - Orange power working a late night
https://www.youtube.com/watch?v=odGuykOv4f4 - Gathering of the Orange leaving Heritage Hill
If you have any information or videos to share, email me at rlarson@orangepsectacular.com so I can post it here. We always appreciate news and information. It doesn't matter how small or unimportant you feel it is...our viewers enjoy seeing other peoples' stuff.
For other updates, scroll down the website.
5/25 - This past weekend, the former Allis-Chalmers dealer's family from Conrath, Wisconsin, celebrated a baby shower. Sarah and Brian Golat of Eau Claire, Wisconsin, received a very special gift from Kris Nelson of Chippewa Falls. Kris was able to make contact and order some Allis-Chalmers fabric from our Quilt Show Co-coordinator, Ruth Peterson. Kris had the fabric shipped to her around the 10th of May and she got to work immediately to make Sarah two (2) quilts by last Saturday 21st. See the pictures below of the quilt and pictures of Sarah and her father-in-law, Chet Golat.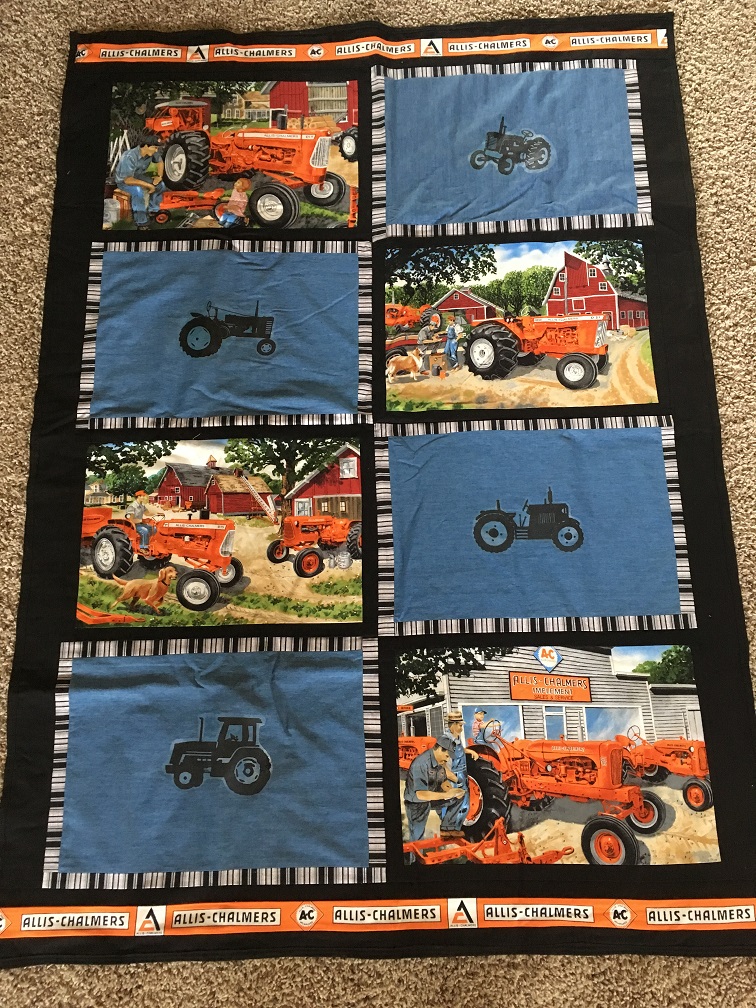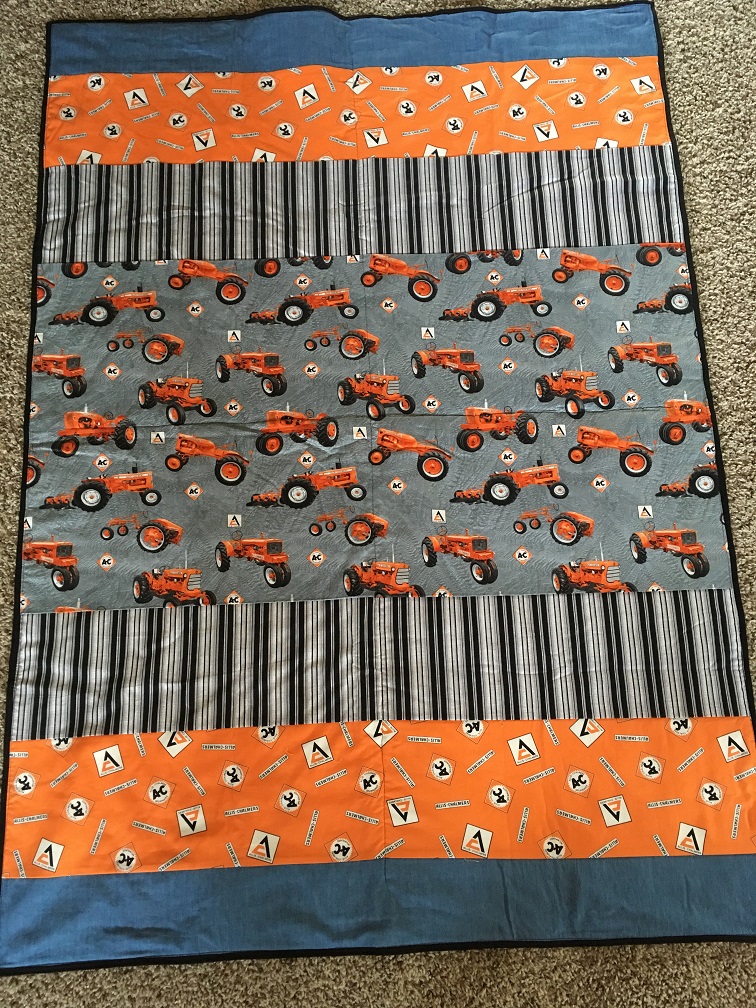 Nice Job, Kris! It's not too late to enter a quilt into our quilt contest, either!!! Plan to participate in the show's quilt show and contest - July 22-24. See more information below
5/15 - Just watching the U.S. Farm Report...On of our Orange Spectacular guest was on the show, displaying his beautifully restored Allis-Chalmers 1949 B. Go to the website http://www.agweb.com/usfr/ You will see the video screen on the left, click on the 5/14/16 episode and slide to 50:45 and you will see Brian Klouse of Austin, MN giving the history of his great-grandpa's tractor. You may recognize Brian and his family from our past shows...
Congratulations Brian...NICE JOB!!!!!
Interested in buying a "C" ? I tried posting this on our classified, but I had an issue with posting the pictures, so I resorted to this method.
If interested in this tractor, please contact Duane at (507) 723-8826
April 10 - ATTENTION, please check out this link http://orangespectacular.com/AnniversaryBBQ.html Please, check out the 25th Anniversary Celebration BBQ registration form is on the left side of this web page....OR click on the above link....to get the information of the BBQ. You can print the form and send it to the address on the bottom of the form. Feel free to call one of the phone numbers on the bottom of the form/page. All reservations are needed to be in by July 1st. Send your reservation in NOW!!!
April 10 - The Upper Midwest A-C Club membership met yesterday for their annual meeting. The club's Board of Directors and Board Membership saw a change. President - Darrell Grams, Sr., Vice-President - Joe Graunke, and Board Member - Craig Buss, and Lynn Bushard re-elected for another three (3) years.
April 10 - It was stressed yesterday to our membership...we need your assistance on Wednesday and/or Thursday for set-up. (I am trying to have the show grounds all set up by Thursday noon).....the more hands, the less hours a couple of people have to do for long daily hours of set-up. Please think about giving just two (2) hours of your time.
**Areas needing assistance - We are trying to locate some volunteers which would help register tractors, hand out our participant plaques and personal transportation units. The volunteers could split some shifts to sit at the south entrance of the show grounds during the show to register tractors and guest's golf carts as they arrive on Thursday afternoon, Friday and at least half of Saturday. We are all willing to "show you the ropes" to fulfill the job we are asking you to help with. rlarson@orangespectacular.com or at (715) 723-1908 to help fill the open schedule.
**Can someone help our Children's Activity Coordinator, Rita, to conduct a scavenger hunt, please? Please contact Rita for your assistance ritaeverhart@hotmail.com or (612) 618-8593
Please think about giving just two (2) hours of your time
Help is also needed at:
Selling Raffle tickets and Merchandise - Contact Rhonda at rlarson1908@charter.net
People Mover drivers - Contact Terry Nowak at tnowak@orangespectacular.com (763) 744-8833
Golf Cart Rentals and Returns Contact Terry Nowak at tnowak@orangespectacular.com (763) 744-8833
Please think about giving just two (2) hours of your time
March 20 - Have you ever seen such an offer?
I wish I could say the Upper Midwest A-C Club was selling this clock as we celebrate the 25th Anniversary of the Orange Spectacular. The Bradford Exchange is responsible for this offer and is the company which is taking the orders. This offer has no relationship or financial gain to the Upper Midwest A-C Club or the Orange Spectacular.
April 10 - WHAT IS THE Scholarship Sponsor Garden Tractor?? Click on this link and check it out....http://orangespectacular.com/sponsorgardentractor.html
Do you want your name on this lawn tractor shown below, after the restoration? Buy a ticket as shown below. You can give donations in $5.00 increments for sponsorship. Any questions, please call Ken Holz at (651) 437-8786. We appreciate your support!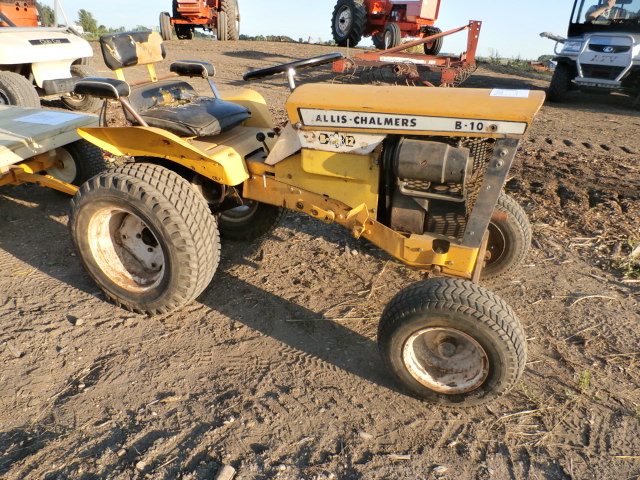 Help sponsor the Upper Midwest A-C Club's Scholarship
April 10 - QUILTERS!!!!! WHERE ARE YOU???? There is going to be quite a quilt show this year at the show.....besides the contest/raffle, there are speakers/seminars, MANY door prizes/raffle (buy your tickets at the Quilt Show area) and demonstrations!!!! Many quilts will be on display!!!! The 2016 Quilt Show and Rules can be found on the left side of this page or click on this link http://orangespectacular.com/quiltshowandrules.html and view the rules....prizes, seminars, and list of activities. Questions??? Check out the page for the contact information http://orangespectacular.com/quiltshowandrules.html
April 10 - Ladies!!!! (and Guys-PLEASE share this information with your other half) There are a LOT of special plans for the quilt show this year! Keep an eye on the side of this page (2016 Quilt Show and Rules). As new information and exciting training sessions, many unique ideas, vendors and many display...WITH the Quilt Show and raffle! Click on the link to see more information about the show and raffle...WATCH FOR NEW UPDATES http://www.orangespectacular.com/quiltshowandrules.html
Best get started on your quilts for the contest!!!
April 10 - Where are they?? As the Upper Midwest A-C Club prepares to celebrate the 25th Anniversary of the Orange Spectacular, we are looking at special events (we need your ideas too). So to help celebrate this milestone, the club would like to find the winners of OR the present owner of our past raffle tractors. It will be quite a feat, but have as many if not all, of the past raffle tractors on the showgrounds on the 4th weekend of July 2016. We need your help....do you know the following winners or do you know where the following winners/tractors are?
Show of 1994 - "B" raffle tractor was won by Bill Becker, Foristell, Missouri
Show of 1995 - 1944 "C" Allis-Chalmers - Ted Nichols, Elk River, MN.
Show of 1996 - CA Allis, Anton Peltzer, Ramsey, MN
Show of 1999 - D- 12 – Glenn Sider, Canada
Show of 2000 - 1959 D-10 - Nancy Dobratz - Watertown, MN
Show of 2003 - WD 45 Diesel Tractor, Philip Lewis – Louisville, IL
Show of 2005 - AC D-17, Duane Campbell, Currie, MN
Show of 2007 - AC 1952 IB, Has been sold to Chuck Smith, Oelwien, IA
Show of 2009 - AC 1962 D-10 Series II, Douglas Anderson, Finland,MN
Show of 2010 - Series II, D-15, Brandon Bursack - Canby, MN
If you know any of the above posted winners OR where the past raffle tractors are...PLEASE, contact me as soon possible, so we can plan to coordinate to have these tractors on the grounds for display in 2016. Contact me by phone at (715) 723-1908 or at rlarson@orangespectacular.com . As for winners not posted, I have their contact information available. I plan to personally invite them to attend our 2016 show and bring their prized possessions, including the raffle tractor of that year. We appreciate your cooperation and assistance!
April 10- ATTENTION QUILTERS....If you or anyone is interested in participating in the 2016 Orange Spectacular Quilt Show...check out our page and plan to compete in the 1st annual quilt show during the 2016 Orange Spectacular....Our 25th Orange Spectacular Show. Click the link and check out all of the details!!!! http://www.orangespectacular.com/quiltshowandrules.html
Ladies....we have a quilt contest coming up! We will be featuring AND displaying the competing quilts at the 2016 (our 25th Anniversary) Orange Spectacular show. Intersted in making a quilt and being part of this exciting event? Please see the details on the side menu and click on the like "2016 Quilt Show and Rules". It is just not quilts...there are OTHER CATEGORIES, too!!!! Check it out!!!!!!!!!!!!!!!