June 25 - Ken and Jason Holz along with Ron Erickson have done professional job of restoration with the Scholarship Auction Lawn and Garden tractor
June 25- WHAT IS THE Scholarship Sponsor Garden Tractor?? Click on this link and check it out....http://orangespectacular.com/sponsorgardentractor.html
Do you want your name on this lawn tractor shown below, after the restoration? Buy a ticket as shown below. You can give donations in $5.00 increments for sponsorship. Any questions, please call Ken Holz at (651) 437-8786. We appreciate your support!
Below is what the lawn and garden tractor looked like before restoration.....
Buy a ticket and have your name placed on the tractor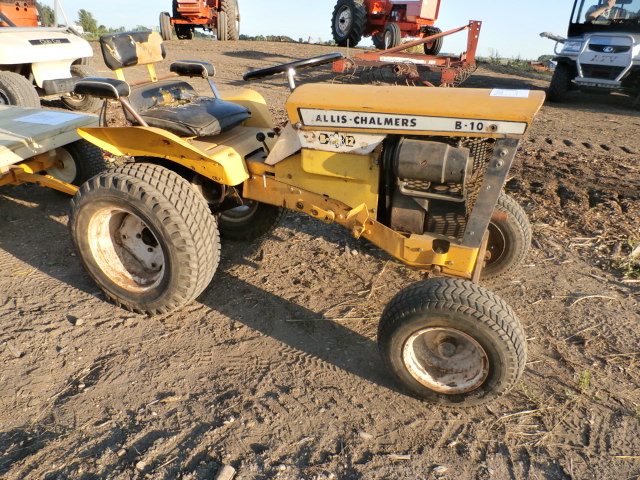 Help sponsor the Upper Midwest A-C Club's Scholarship - It's tax-deductible!
June 25 - New news for our quilters...checkout the page and see what is new...click on the link..http://www.orangespectacular.com/quiltshowandrules.html
June 24 - Friends of the Orange Spectacular!!!! One month from today!!!! We will know who is the winner of this year's raffle tractor
Quilt Show Update - There are thirty-six (36) quilts will be on display at the 25th Orange Spectacular....better get ready to finish your quilt...July 1st is the deadline to register your quilt!
We still need help in areas....feel free to contact Randy at (715) 723-1908 to be a volunteer.
Have you bought your banquet tickets yet??? July 1st will be the date we tell our caterer how much food they need to make! Hurry......
June 21 - We just had an order of ten (10) tickets today, signed up for the BBQ is 150+ as registration continues to come in. PLEASE.....ATTENTION, please check out this link http://orangespectacular.com/AnniversaryBBQ.html Please, check out the 25th Anniversary Celebration BBQ registration form is on the left side of this web page....OR click on the above link....to get the information of the BBQ. You can print the form and send it to the address on the bottom of the form. Feel free to call one of the phone numbers on the bottom of the form/page. All reservations are needed to be in by July 1st. Send your reservation in NOW!!!
June 21 - We need your assistance on Wednesday (July 20) and/or Thursday (July 21) for set-up. (I am trying to have the show grounds all set up by Thursday noon).....the more hands, the less hours a couple of people have to do for long daily hours of set-up. Please think about giving just two (2) hours of your time.
**Areas needing assistance - We are trying to locate some volunteers which would help register tractors, hand out our participant plaques and personal transportation units. The volunteers could split some shifts to sit at the south entrance of the show grounds during the show to register tractors and guest's golf carts as they arrive on Thursday afternoon, Friday and at least half of Saturday. We are all willing to "show you the ropes" to fulfill the job we are asking you to help with. rlarson@orangespectacular.com or at (715) 723-1908 to help fill the open schedule.
**Can someone help our Children's Activity Coordinator, Rita, to conduct a scavenger hunt, please? Please contact Rita for your assistance ritaeverhart@hotmail.com or (612) 618-8593
Please think about giving just two (2) hours of your time
Help is also needed at:
Selling Raffle tickets and Merchandise - Contact Rhonda at rlarson1908@charter.net
People Mover drivers - Contact Terry Nowak at tnowak@orangespectacular.com (763) 744-8833
Golf Cart Rentals and Returns Contact Terry Nowak at tnowak@orangespectacular.com (763) 744-8833
Please think about giving just two (2) hours of your time
June 21 - QUILTERS!!!!! WHERE ARE YOU???? There is going to be quite a quilt show this year at the show.....besides the contest/raffle, there are speakers/seminars, MANY door prizes/raffle (buy your tickets at the Quilt Show area) and demonstrations!!!! Many quilts will be on display!!!! The 2016 Quilt Show and Rules can be found on the left side of this page or click on this link http://orangespectacular.com/quiltshowandrules.html and view the rules....prizes, seminars, and list of activities. Questions??? Check out the page for the contact information http://orangespectacular.com/quiltshowandrules.html
June 11 - Matt Wosmek has asked me to place this Allis-Chalmers auction on our club's website....You may want to consider checking this out!!! This has been copied from the sales bill.
Sue & Orrie Flermoen Auction
Saturday June 25th at 10AM

Location: 22526 410th ST SE, Winger, MN 56592

2.5 miles north of Winger on Hwy 59 then turn West on 410th st. to property on the right side. Located 6 miles South of US hwy 2 on hwy 59 then West on 410th st. to the property.

Sue & Orrie are downsizing their life long collection of farm machinery. Come and join them and Bachmann Auctioneers for a fun day.

Note: All items are to be removed by Sunday July 3rd. Loading will be available the day of Auction, and after the auction by appointment with the seller. Call first to preview. Orrie Home- 218-938-4265, Cell- 218-280-8862, email – oakgrovefarm@gvtel.com Call prior to the auction with questions. No phone bidding allowed day of auction, call in advance.

Allis Chalmers tractors

1971 Allis Chalmers 180 Landhandler Diesel. power steering 3 point cab heater. wheel weights and tire chains, 5085 hours SN 180-11323D. Allis Chalmers model 500. All hydraulic loader with manure and snow buckets "Laporte Plant". SN 571137-257
1962 D17 series lll gas 2pt snap coupler power steering SN D17- 42524
1963 D15 series ll gas 2pt snap coupler power steering SN D15-15127 Noisy transmission
1959 D 14 with shuttle clutch power steering 2 pt snap coupler SN D14-16383
1953 WD-45 2 point snap coupler wide front. SN 151776 "Connie" runs
1949 WD 2 point narrow front SN 28565 'Helmer"
1949 WD 2 point snap coupler narrow front SN 29617 "Alma" Loose
1950 WD 2 point narrow front 12 volt SN 43183. "Glenn"
1936. WC. Unstyled. Spoke wheels. Narrow front SN 19861 loose
1947. WC with single front wheel SN 162453 Engine and clutch stuck
1949 C narrow front turf tires with 60" Woods belly mower manual lift SN 74084
1948 G 3 speed SN 926, runs, newer rubber
1955 WD 45, LP/gas, wide front, new pistons and liner, head rebuilt, approx.. 300 hours since major overhaul, new front tires, 2 rear wheel weights on each side
1936 WC, PTO with attached hyd pump

Allis Chalmers mounted Implements for G tractors

One bottom plow
One row cultivator
Two row All Crop planter With fertilizer cans and plates
Tool Bar
5' Belly Mounted Sickle Mower
Factory Front Weight
Extra wheels
2- 6x24 tires

Allis Chalmers 2 point mounted Equipment and Implements. Snap Coupler Equipment

Factory 3 point hitch conversion
6' rear scraper blade
3/4 yard Dirt Scraper Bucket
2, 3. And 4 bottom plows
12' field cultivator
8' field cultivator
10' tandem disc
4 Row Corn/Bean planter
4 Row Corn/Bean cultivator
7' 3 point mounted Grain Drill with fertilizer and Grass seed
3 point hitch conversion
Lever engaged belt pulley for WC and WD
Misc. drawbar and hitch parts
Rear Wheel weights
Allis Chalmers Machinery
Allis Chalmers 72 All Crop PTO Combine
Allis Chalmers 66 All Crop PTO Combine
2. Allis Chalmers Roto Balers
15 ft. Allis Chalmers single disc
1 row corn cultivator for B
2 row corn cultivator for CA
2 - 2 row cultivators for WD
1 - 4 row cultivator
7' Belly Mount Sickle mower for WC
7' Rear Mount Sickle mower for WD
Tractor loaders with manure buckets

Other Allis Chalmers Items

Allis Chalmers Sno Bee 7 28" two stage snow blower Tecumseh 7 HP engine with electric start
Allis Chalmers B112 Lawn Tractor with 42" mower deck
Allis Chalmers 3x5 Banner. This is the one that flew over the Allis Chalmers tent at the Minnesota State Fair I bought it at the A-C dispersal sale when A-C stopped the displays.
A-C 3 bottom mounted plow

Cars and pickups and related car parts

1963 Plymouth Savoy 4 door 225 slant 6 cyl. Manual transmission engine loose, bought new, 110,000 miles
1968 Plymouth Fury 111. 4 door sedan 318 V/8. Automatic. Runs rough
1962 and 1/2. Ford F-100 uni-body 2 wheel drive long box pickup. 6cyl. 3 speed manual Runs & drives
1999 Lincoln Town Car. 240,000 miles. Runs and drives good, auto, 4.6, 4 door, leather interior
Car Parts
Complete 1975 Chrysler 440 engine out of 1975 Chrysler New Yorker with 727 Chrysler Torque-Flight attached. Approximately 130,000 miles. Running when removed from car.
2. - # 3462346 Mopar heads for 71-73. 400/440 engines. Cleaned and Magna Fluxed. Good.
2. - # 2843906 Mopar heads for 68-71. 383/440 engines. Cleaned and Magna Fluxed. Good.
4 bbl Holley carburetor from 1975 Chrysler 440

Boat

1977 Larson 17' 6" Fiberglass Open Bow Boat "Deep Trouble"
with 140 HP Mercruiser I/O unit. All covers, ski tow bar, Heavy tilt trailer. Clean and Runs Good.
1 pair Connelly 650 Flex water skis
1 pair Ski-Master water skis
Life jackets

Farm machinery

1946 B John Deere with Power Trol S/N 187275. Nice tin. Engine does not hold water.
IHC model 64 combine with engine (stuck) with Polaris straw chopper
10 ft. IHC pull type PTO swather
160 bushel PTO Minnesota Manure spreader
2 wheel rubber tire Minneapolis Moline Manure spreader ground drive
5 ft Erskine pull type PTO snow blower with 2ft. Wing
McKee. 6 ft. PTO. 2 stage snow blower
Minnesota Big 7. Wagon gear with 14 ft. Flatbed with backstop
Minnesota Heavy Duty wagon gear with 14' 6" large basket for loose hay or bundle
75 gal fuel field service tank
Manual transfer fuel pump
Tractor tire chains. Fit 16.9 X 26 tires
2 - 914 IHC. Pull type PTO combines
8 ft. Massey Ferguson # 63 press grain drill
Woods 6ft landscaping rake 3pt
IH Ripper with steel wheels
Deerborn dirt scoop

Antique Items & Other

1966. Honda 305 Dream motorcycle, titled, loose
Adams #4 Road Grader. No front wheels
Martin 60. Outboard motor
Melotte Stainless Steel cream separator
2 -Fanning mills
7 ft. Clover windrower for Sickle mower
Old wooden flare box wagon on old gear.
Parts for high wooden wheel wagon
Minnesota hay loader or New Idea
Revere 8 movie projector
Solid wood doors 1930 era
Snow plane skis
Shelving
2 sections of metal towers
Flare box with no running ear
Sections of sliding door tracts
Flat belt buzz saw

Household

1999 Macintosh computer new in box
Black vinyl sleepier sofa
Whirlpool washing machine
May tag wringer washer
Television sets television stand bed frames
Padded outdoor picnic chairs
June 4 - Our raffle tractor restoration person - Luke Olson of Olson Tractor and Restoration (his website is www.olsontractor.com) has been hard at work. He has just completed a D19 High-Crop restoration!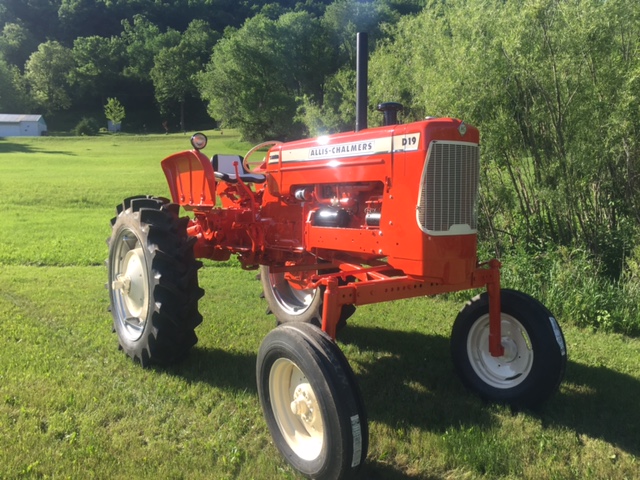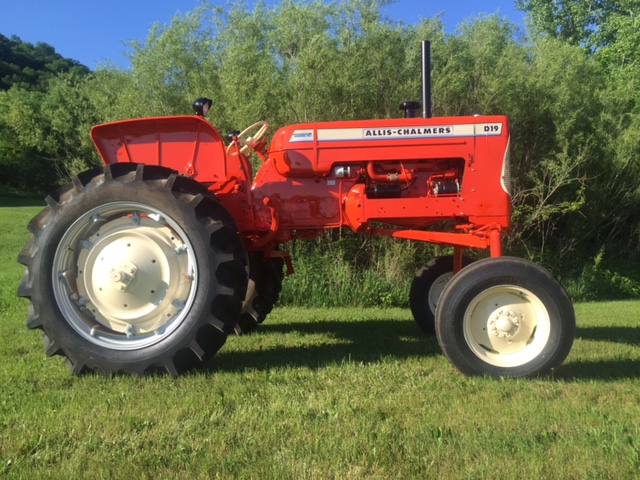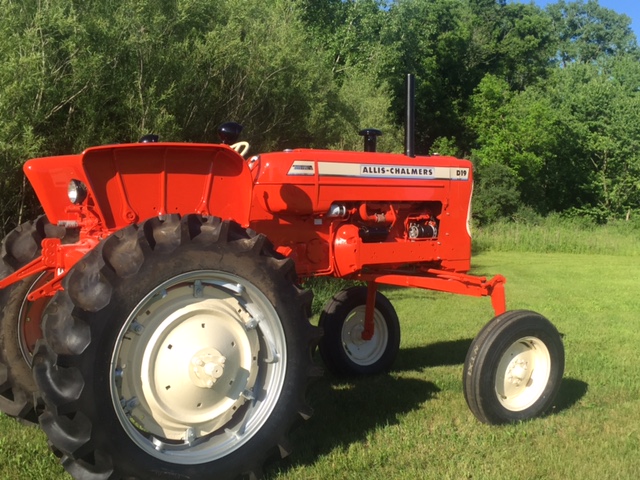 Below is a picture of this year's 25th Annual Orange Spectacular raffle tractor
June is Dairy Month! Thank you to anyone who feeds the people of the world! Your hard work and long days are much appreciated!
Please, don't give up during these tough times.....you are very much needed!!! Everybody gets hungry at one time or another!
5/31 - From Heidi and Dave Clausen - WE'RE GOING TO ALASKA! Through my work with The Country Today, Dave & I are planning to host a 13-day ALASKAN ADVENTURE, June 19-July 1, 2017. This will be a land tour with agriculture highlights (dairy farm, reindeer farm, vegetable farm, etc.), followed by a cruise aboard the Star Princess. Other features include Denali National Park, Mt. McKinley and Hubbard Glacier.
Full details can be found on the brochure at www.vikingtvl.com/uploads/2/3/3/9/23397122/6-17_alaska.pdf
5/27 - Do you need an electric fencer repaired ? I needed parts of a fencer, so I found and called this place as I had found it on the internet...The Fencer Shop - Electric Fencer Repair, Kevin Blasé of Polk, NE. When talking with this gentleman, I found he is VERY knowledgeable in fencers and has parts...old and new. Very courteous, too. Check out the new link on the left side of this page. Click on the link and check it out.... http://www.thefencershop.com/
5/25 - I just received this tonight. AWESOME JOB to Ken and Jason Holz, Mike Richter, and Ron Erickson!!!!!
2016 SCHOLARSHIP SILENT AUCTION
New this year we are having a silent auction on some smaller items, with the money going into our Scholarship Fund.
This 7000 series toy tractor was customized and donated by Mike Richter.
Mike, nice job so far. Can't wait to see what the final product will look like!!!!
Stop by Mike's display in the toy building to see and bid on this item.
There will also be some other items displayed at Mike's table that will also be included in the silent auction. Unfortunately they are not complete enough to include at this time. Stay tuned to the website, as we will get them on there when pictures are available.
All items will be displayed, and bids taken Friday, and Saturday during normal Toy Building hours. The bidding will close Saturday when the building closes. The winning bidders will be announced at the beginning of the Tractor Auction Saturday night, at 8:00 PM. We would like if the winners could attend the Auction to take possession, and settle up.
Thanks from the Upper Midwest Scholarship Committee.
5/25 - Chip Grube of Minnesota sent me an email stating he is planning to bring his One-Ninety for t he 25th Anniversary of the Orange Spectacular. He has had a two page article published in The Allis Connection on their history with the 190 and a couple of XT's that we had.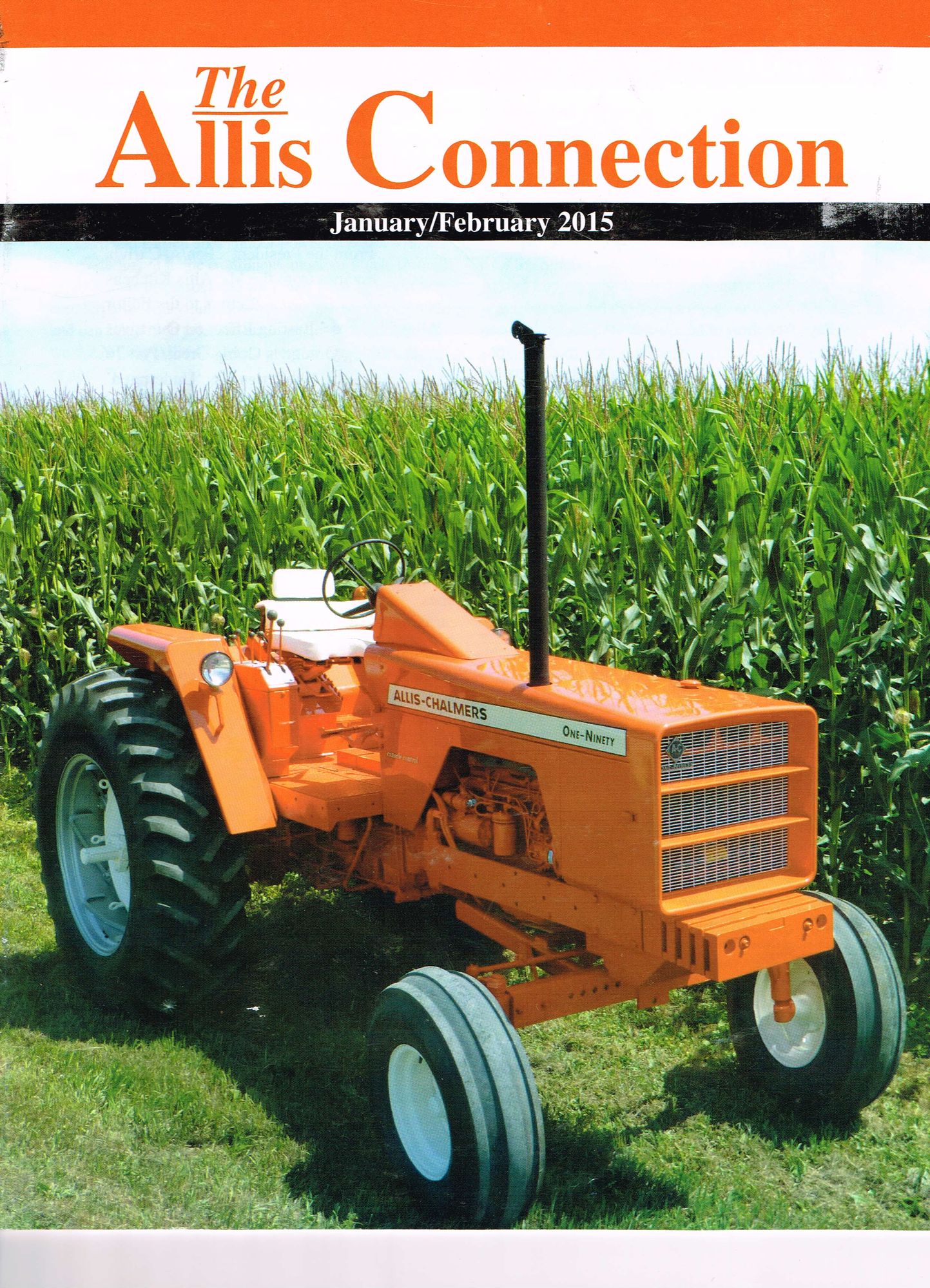 He shared with me some videos he has posted on Youtube. I thought you may enjoy the videos as much as I did. Check the videos out....you may have never seen an Allis-Chalmers engine driving irrigations pumps. Chip sent some other videos, too. Just click on the links. Thank you, Chip!
https://www.youtube.com/watch?v=Li_5ek4KhV0 - 2013 irrigation season begins
https://www.youtube.com/watch?v=-rikzVTNSSo - Corn Shelling at Heritage Hill, Montevideo, MN
https://www.youtube.com/watch?v=oETw7bLQdbs&feature=youtu.be - WD on the threshing machine
https://www.youtube.com/watch?v=abS5mySMVeQ - Orange power working a late night
https://www.youtube.com/watch?v=odGuykOv4f4 - Gathering of the Orange leaving Heritage Hill
If you have any information or videos to share, email me at rlarson@orangepsectacular.com so I can post it here. We always appreciate news and information. It doesn't matter how small or unimportant you feel it is...our viewers enjoy seeing other peoples' stuff.
For other updates, scroll down the website.
5/15 - Just watching the U.S. Farm Report...On of our Orange Spectacular guest was on the show, displaying his beautifully restored Allis-Chalmers 1949 B. Go to the website http://www.agweb.com/usfr/ You will see the video screen on the left, click on the 5/14/16 episode and slide to 50:45 and you will see Brian Klouse of Austin, MN giving the history of his great-grandpa's tractor. You may recognize Brian and his family from our past shows...
Congratulations Brian...NICE JOB!!!!!
March 20 - Have you ever seen such an offer?
I wish I could say the Upper Midwest A-C Club was selling this clock as we celebrate the 25th Anniversary of the Orange Spectacular. The Bradford Exchange is responsible for this offer and is the company which is taking the orders. This offer has no relationship or financial gain to the Upper Midwest A-C Club or the Orange Spectacular.
April 10 - Ladies!!!! (and Guys-PLEASE share this information with your other half) There are a LOT of special plans for the quilt show this year! Keep an eye on the side of this page (2016 Quilt Show and Rules). As new information and exciting training sessions, many unique ideas, vendors and many display...WITH the Quilt Show and raffle! Click on the link to see more information about the show and raffle...WATCH FOR NEW UPDATES http://www.orangespectacular.com/quiltshowandrules.html
Best get started on your quilts for the contest!!!
April 10 - Where are they?? As the Upper Midwest A-C Club prepares to celebrate the 25th Anniversary of the Orange Spectacular, we are looking at special events (we need your ideas too). So to help celebrate this milestone, the club would like to find the winners of OR the present owner of our past raffle tractors. It will be quite a feat, but have as many if not all, of the past raffle tractors on the showgrounds on the 4th weekend of July 2016. We need your help....do you know the following winners or do you know where the following winners/tractors are?
Show of 1994 - "B" raffle tractor was won by Bill Becker, Foristell, Missouri
Show of 1995 - 1944 "C" Allis-Chalmers - Ted Nichols, Elk River, MN.
Show of 1996 - CA Allis, Anton Peltzer, Ramsey, MN
Show of 1999 - D- 12 – Glenn Sider, Canada
Show of 2000 - 1959 D-10 - Nancy Dobratz - Watertown, MN
Show of 2003 - WD 45 Diesel Tractor, Philip Lewis – Louisville, IL
Show of 2005 - AC D-17, Duane Campbell, Currie, MN
Show of 2007 - AC 1952 IB, Has been sold to Chuck Smith, Oelwien, IA
Show of 2009 - AC 1962 D-10 Series II, Douglas Anderson, Finland,MN
Show of 2010 - Series II, D-15, Brandon Bursack - Canby, MN
If you know any of the above posted winners OR where the past raffle tractors are...PLEASE, contact me as soon possible, so we can plan to coordinate to have these tractors on the grounds for display in 2016. Contact me by phone at (715) 723-1908 or at rlarson@orangespectacular.com . As for winners not posted, I have their contact information available. I plan to personally invite them to attend our 2016 show and bring their prized possessions, including the raffle tractor of that year. We appreciate your cooperation and assistance!
April 10- ATTENTION QUILTERS....If you or anyone is interested in participating in the 2016 Orange Spectacular Quilt Show...check out our page and plan to compete in the 1st annual quilt show during the 2016 Orange Spectacular....Our 25th Orange Spectacular Show. Click the link and check out all of the details!!!! http://www.orangespectacular.com/quiltshowandrules.html
Ladies....we have a quilt contest coming up! We will be featuring AND displaying the competing quilts at the 2016 (our 25th Anniversary) Orange Spectacular show. Intersted in making a quilt and being part of this exciting event? Please see the details on the side menu and click on the like "2016 Quilt Show and Rules". It is just not quilts...there are OTHER CATEGORIES, too!!!! Check it out!!!!!!!!!!!!!!!