October 2 - The following is compliments of Steiner Tractor
An inside view of an Allis Chalmers collection
Meet Brad Klee of Ruth, Michigan and his extensive collection of Allis Chalmers 8000 series tractors. Brad, a farmer who specializes in Holstein cattle and custom baling, opened his barn doors to our very own Suzette and Rachel of Wrenching with Rachel. See Brad's story in this newest series of tractor videos offered online at SteinerTractor.TV. Click on the following link to watch....
http://www.steinertractor.tv/Wrenching-with-Rachel/Klee-Family-AC-Collection/189272-0-6418823?et_cid=20949326&et_rid=313310060
September 25 - We have been adding videos this week, because it is, "Tractor Safety Week". Attached is another video...put out by Allis-Chalmers... https://youtu.be/_zsw7a-_Lh0 Enjoy and PLEASE stay safe!
September 23 - Attached is another video that promotes Tractor Safety Week. Stay safe. https://www.youtube.com/watch?v=jODoYhqoang Video is developed by Steiner Tractor.
September 23 - Fall Banquet is coming up on November 14th, in Hutchinson. Please click on the link for the printable reservation form and send to the address at the bottom of the page. This page can also be found on the left side of the website under "Fall Banquet Registration Form". http://orangespectacular.com/fallbanquetform.html We look forward to seeing you!
September 22 - This week is National Tractor Safety Week. I will try to post a new video or informative statement daily. Today's safety information can be found on the following link.. https://www.youtube.com/watch?v=x9mzvyTvS04 Stay safe!
September 19 - You may not have known him, but you know of Greg..... In Memory of
1951 - 2015
General Information
Full Name
Gregory John Semanko
Date of Birth
Friday, April 27th, 1951
Date of Death
Wednesday, September 16th, 2015
Visitation
When
Monday, September 21st, 2015, 5:00pm - 8:00pm
Location
Kozlak-Radulovich Funeral Chapel
Address
1918 University Avenue NE.
Minneapolis, MN
55418
Additional Information
Vigil Prayers (Parastas) 7:00pm
Service Information
When
Tuesday, September 22nd, 2015, 10:00am
Location
St. Mary's Orthodox Cathedral
Address
1701 5th St. NE
Minneapolis, MN
55413
Service Extra Info
Visitation beginning at 9:00am
Interment Information
Location
St. Mary's Orthodox Cemetery
3025 Stinson Blvd. NE
September 13 - The Upper Midwest A/C club held a meeting on Sept 12th to deal with several issues. In attendance besides the board members were eight (8) members of the club.
The results of this meeting are as follows:
Larry Karg has retired from the club's board.

Randy Larson will stay on as president at least until the Apr 2016 Board/Membership meeting.

Aaron Barneson will remain on the board but does relinquish his Secretarial role.
These changes do open up some unfilled roles and these will be addressed in the near future at upcoming board and club membership meetings.
Follow These Tips to Help Prevent Tractor Accidents
Farm tractors are a primary tool for most farms. But studies show tractors are also involved in a high proportion of farm injuries and fatalities. Most accidents can be prevented by following basic tractor safety guidelines.
Five major areas cause most farm tractor accidents: rollovers, run overs, road accidents, blind spots and entanglements. Here are tips to prevent each. But the best idea is to develop a "safety first" attitude on your farm. Follow safe work practices at all times and set a good example for others.
Rollovers
Be sure your tractor is equipped with a ROPS (rollover protective structure) and a seat belt. Always wear your seat belt, back up steep slopes, check for uneven ground or large obstacles, avoid wet or muddy fields and drive tractors slowly.
Run overs
Always turn the engine off when you're not in the driver's seat. And never allow extra riders — it's distracting and unsafe.
Road accidents
Tractors should not be operated on the highways without flashing lights and reflective slow moving vehicle (SMV) emblems displayed on the rear of any machinery, even if being towed. Stay aware of any traffic around you, and stay as far over to the right of the road as practical.
Blind spots
Never allow children to play or hide around tractors or other equipment. Walk completely around tractors and other equipment before getting on to ensure you're aware of anything in your path.
Entanglements
Be sure your PTO (power take-off) shield is in place or replace it. Always walk around an operating PTO, not over it. Do not wear loose fitting clothing or allow loose, long hair around machinery with moving parts. Disengage power and turn the engine off before trying to manually clear a clogged machine.
For more information on tractor safety and accident prevention, visit www.ws4u.com.
August 26 - All of the overhead videos, which Wayne Stoddard had taken have been all posted on the webside under the side bar link of "2015 Overhead Videos".
To each of you volunteers who helped, in any way, to help make the 2015 Orange Spectacular a huge success..."THANK YOU for your volunteered time you gave to the show...Your help was much appreciated!"
You also may enjoy this website which I just found http://www.captureminnesota.com/users/jogtrot Carol Spies, our show's photographer has made and awesome album of the Orange Spectacular...."Nice job Carol. Thank you for your talent!!" Enjoy the pictures and her wonderful talents!!
August 23 - Many videos have been added to the website...check out the links on the side for the 2015 videos....enjoy and THANKS to Wayne Stoddard for his talent to show us what his drone saw overhead!!!!
I have added new pictures on the "2015 Orange Spectacular Pictures" on the side of this page
August 9 - Almost "recovered" from this year's show and I REALLY need to let you all know some of this years stats and share MANY pictures with you all.
August 9 - Attendance information Friday 2091 Saturday 7156 Sunday 1873 Total 11,120
Tractors 218 Lawn and Garden 125 Crawlers 6 Industrials 10 Other 18 Truck 1
August 9 - Pictures of the 2015 Orange Spectacular
Living history of the All-Crop Harvester seminar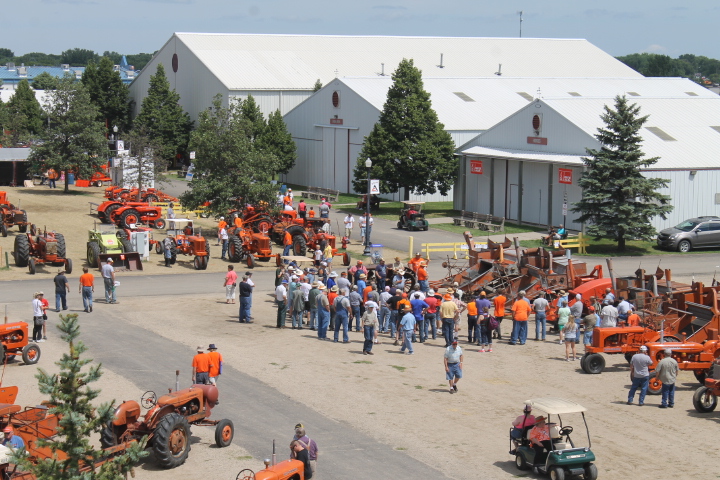 Roto baler lineup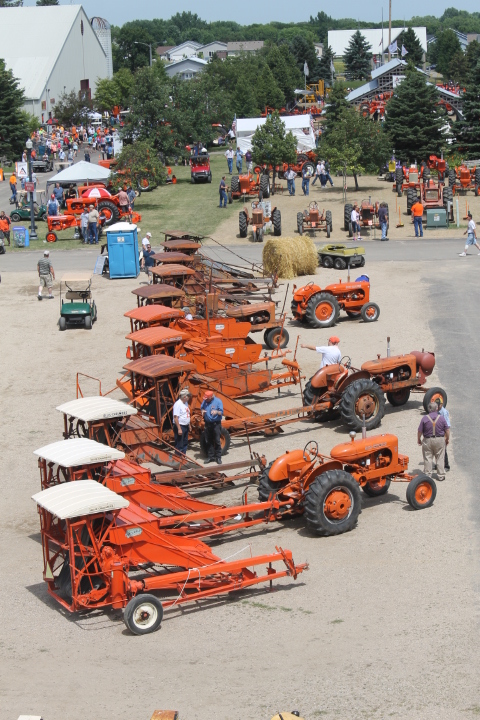 Many guests watch the Kiddie Pull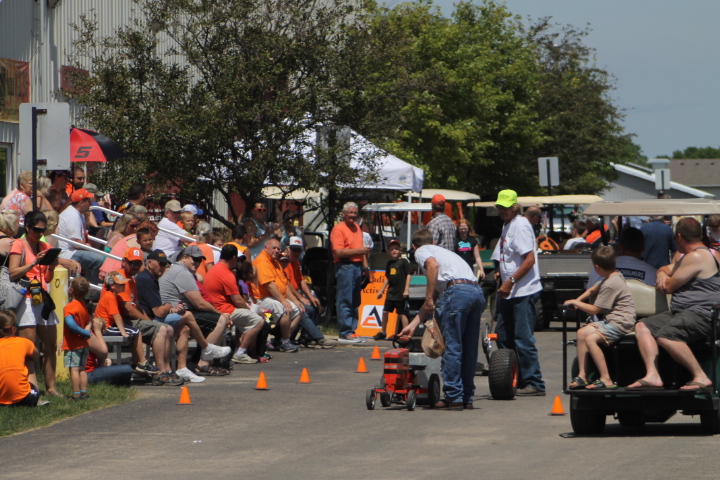 Many guests head out to the field demos!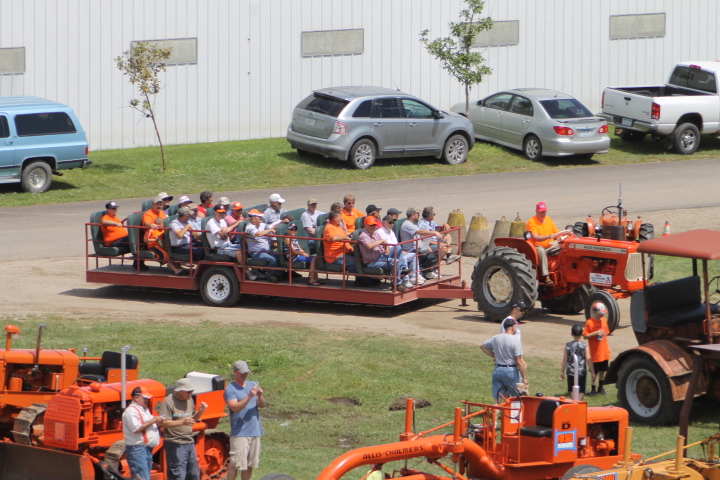 Field demos include the dozers working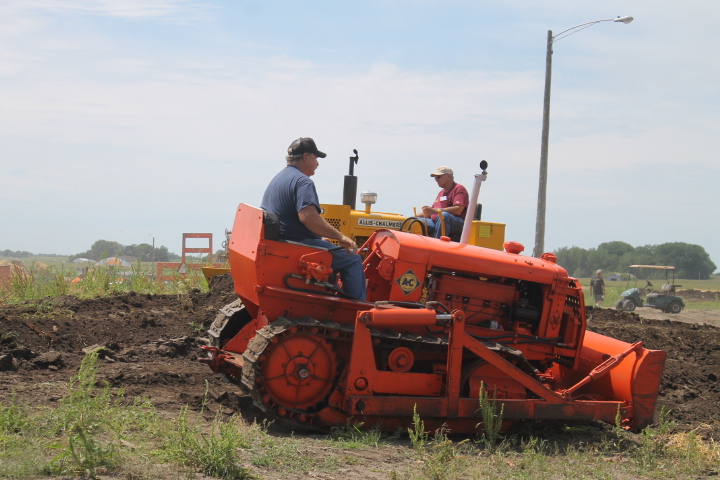 More dirt work demos happening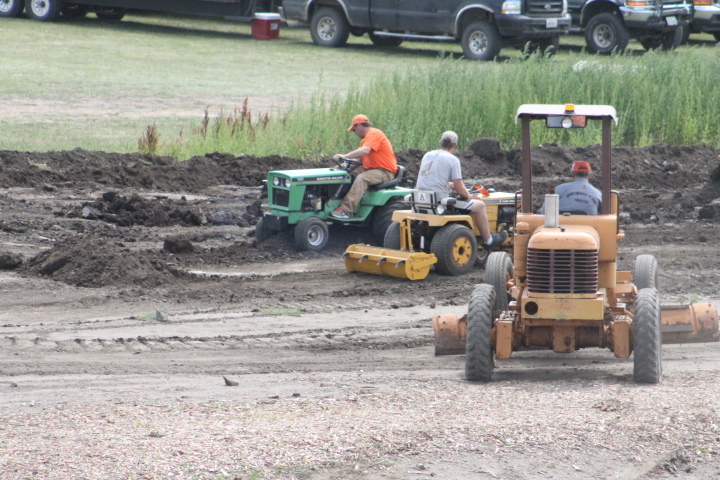 Pictured here are a few of the many garden tractors which demonstrated plowing
Using a snap-coupler field cultivator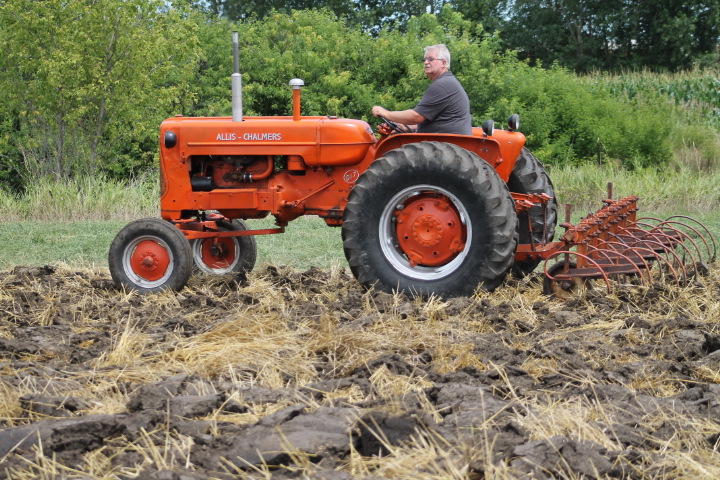 Plowing with a D21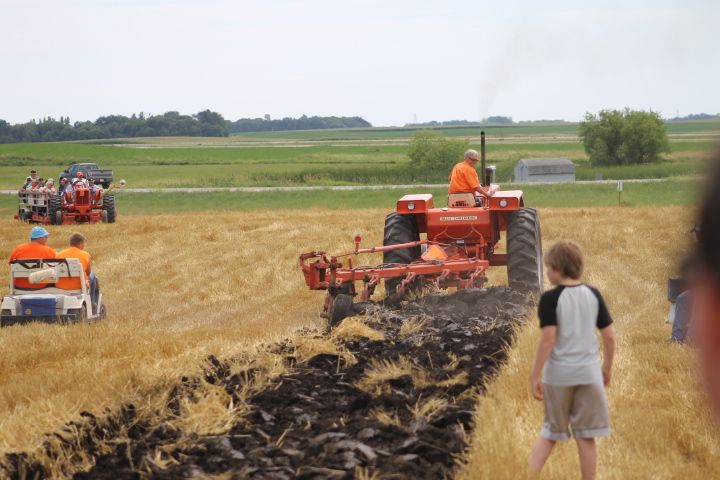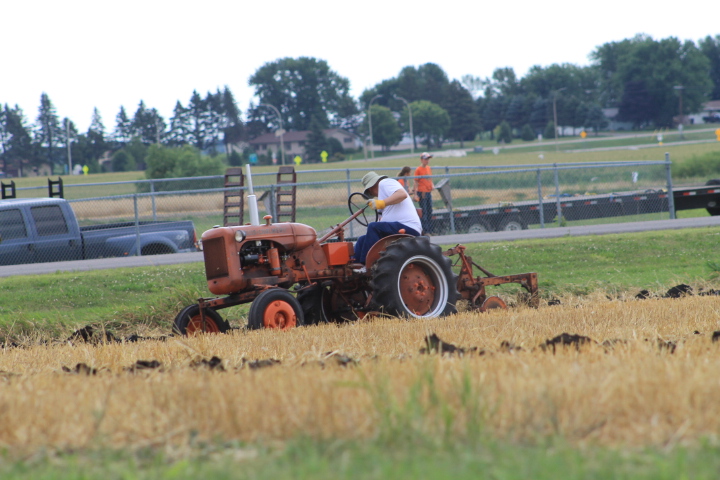 More plowing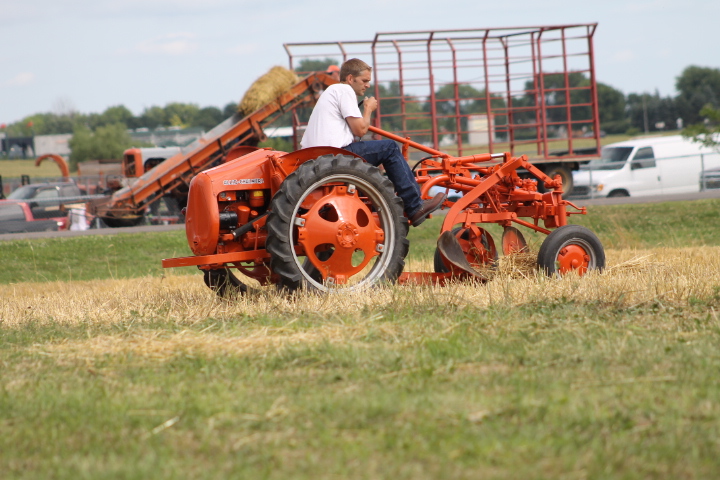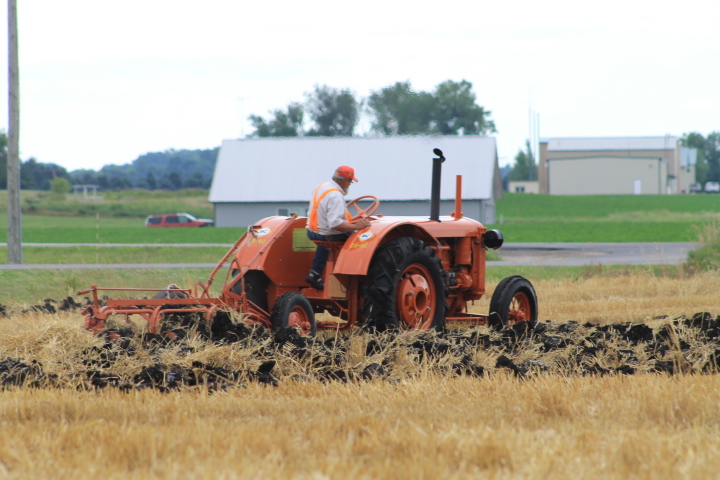 Combining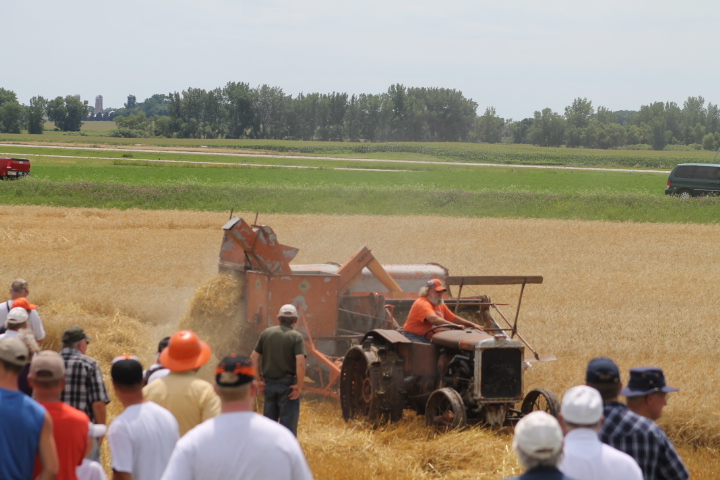 Combining with other models. The wheat was heavy and thick this year.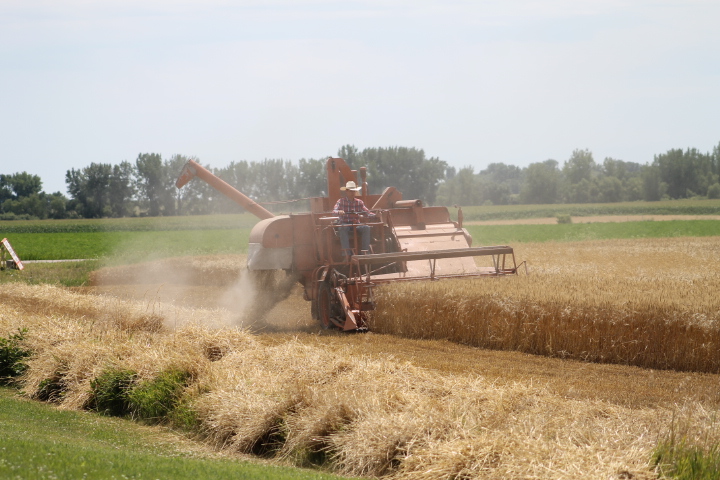 Square baling the straw with a thrower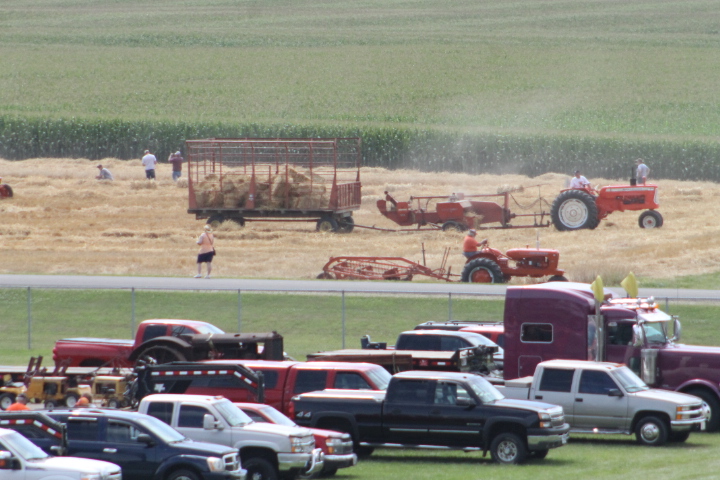 Roto baling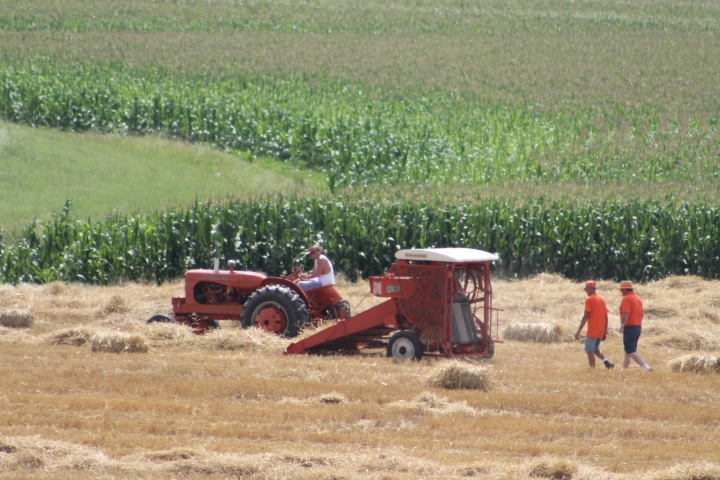 Picking up roto bales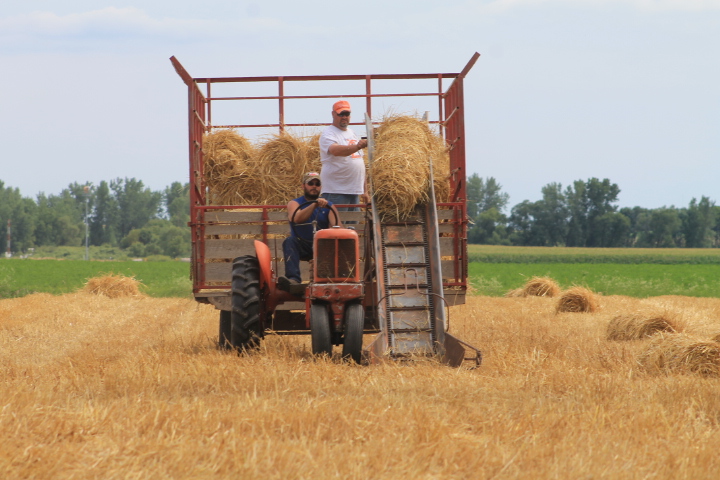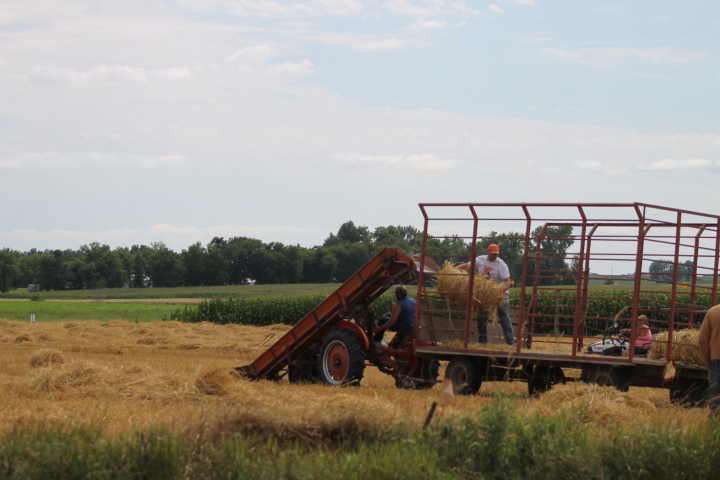 And more square baling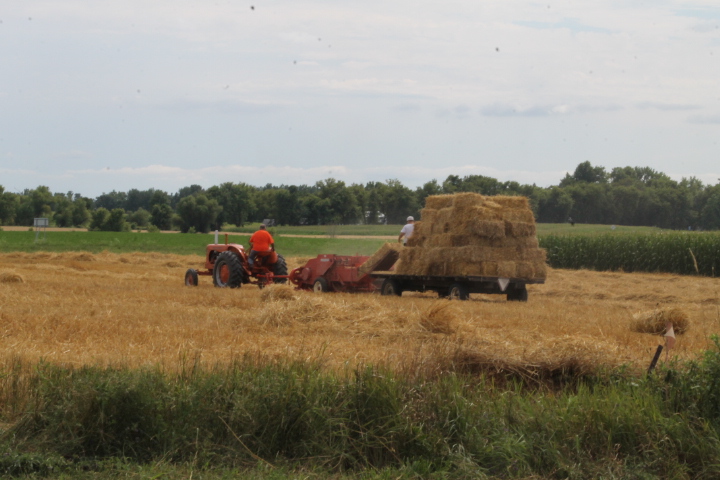 July 28 - we have another survey for you......please click on the link.....thank you for your time! https://www.surveymonkey.com/r/8DVCFDC
There is much conversation during set-up so it is fun for set-up and for the tear-down. My goal next year....Let's be all set-up by Thursday noon so we can relax in the afternoon. Your help would be much appreciated. All placement of items are all laid out in a map an explained what goes where...easy jobs with many helpers.
It didn't rain yesterday, so we were able to plow the east field and combine and bale straw on the far west field. When the crowd started to arrive in the east field we noticed some of the east field had been plowed. Come to find out, the newly formed "Twilight Tillage Team" went out plowing the night before to clean up their plow shares. The "Twilight Tillage Team" was a few of the lawn and garden tractor owners who plowed the night before and finshied using the tractor's headlights. They had to have plowed at least 4-5 acres......it all has to do with fun at the Orange Spectacular!
People are so excited to be here...tailgating in the parking lot with friends and family too...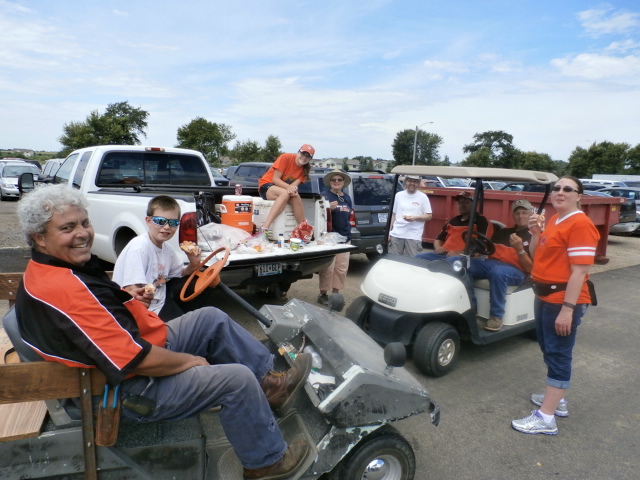 As you walk the grounds, you may come across Rick, Tammy, and Josh Van Tyl's camper.
You need to check this camper out...it is all done in an Allis-Chalmers theme! And then you see the goodies on the tables...yummy!! "Thanks" to the Van Tyl's for your treats!
The dyno was used. Bob Rodda of Duluth, MN with his D21......Read the top scale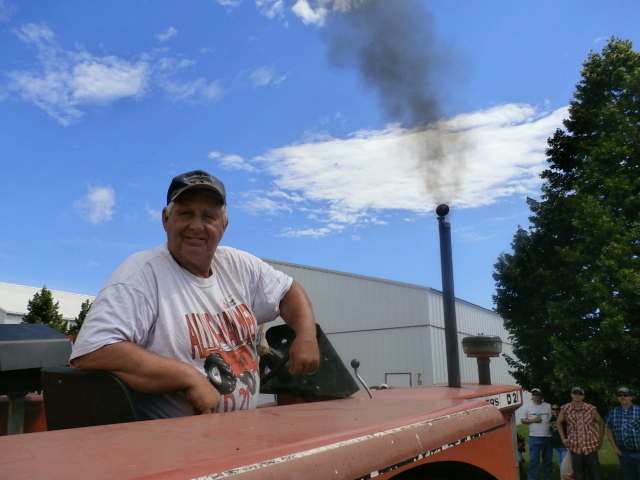 The crowd starts to gather....Results are posted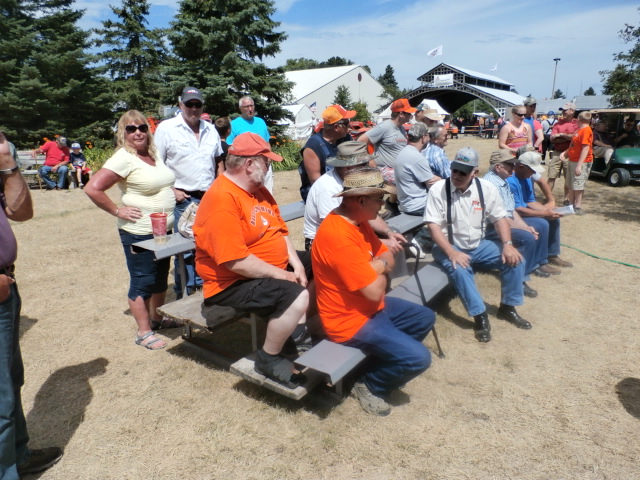 Many more tractors "rolled" in yesterday! The trailer parking was full.....BUT we found more room. The parking lots were full, but we found a few "secret" parking places....the Swap Meet was full, but we found some other spots (non-typical) for sales....it all worked out just fine!
Plan to come today AND by 3:30 p.m., someone will be winning a tractor or $4000 dollars for 1st place, $1500 for 2nd, and a $1000 for 3rd.....come and support the Orange Spectacular by buying a $2.00 ticket.
July 25 - What a first day!!!! Attendance - around 2100. Started out a bit wet as light rain showers moved through until around 7:30 a.m. It stayed cloudy and overcast for most of the morning....then the sun came out about 12 noon. There were reports Hutchinson received about one (1) inch of rain which really didn't slow down the combining of the wheat, baling the straw and hay. Plowing was not done yesterday, but today our guests will be able to plow more as they have yesterday's and today's field to plow. So the lawn and garden tractors will demonstrate different dirt attachments along with the farm tractors.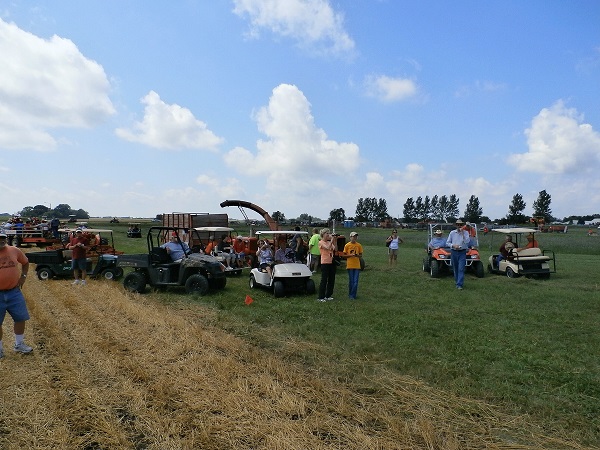 After lunch the weather turned warmer and bit sticky....but the parking lot was busy as cars came and went. Our Swap meet is "full"....last year we had (ninety) 90 spots. This year Doug had laid one-hundred ten (110) spots....as of last night only one (1) was available....BUT he will make overflow if needed! There is a lot of parts out there!
Our tractor display is already larger than last year....we will have to see how much we grow today!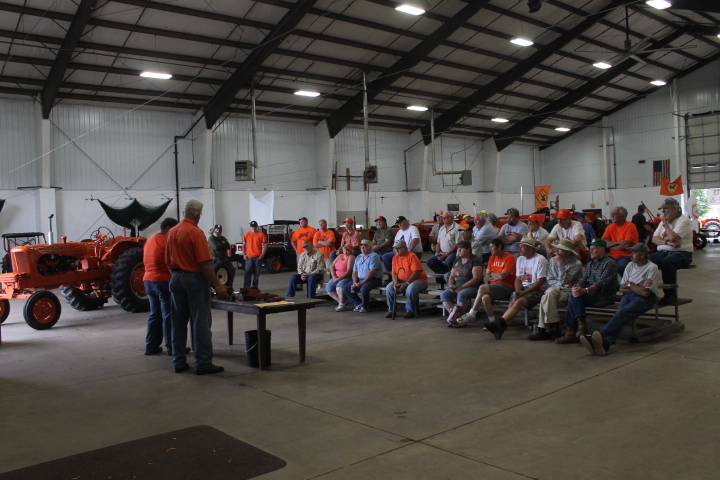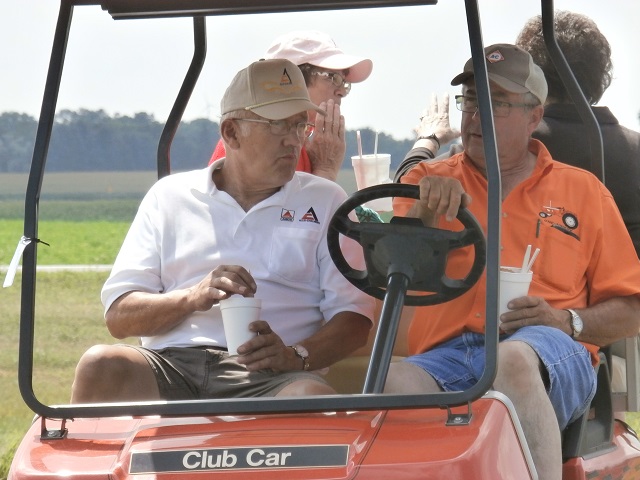 Snap coupler seminar Come and watch the field demos and have a vanilla shake!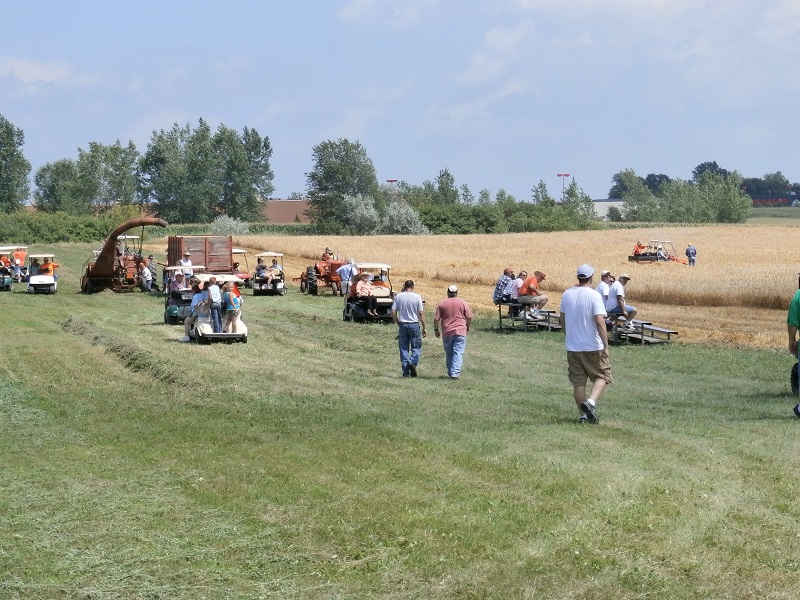 Don't just think about coming, get in your vehicle and come to Hutchinson and see the 24th Orange Spectacular.
Tractor ride last night had about twenty-eight (28) tractors with two (2) FULL people movers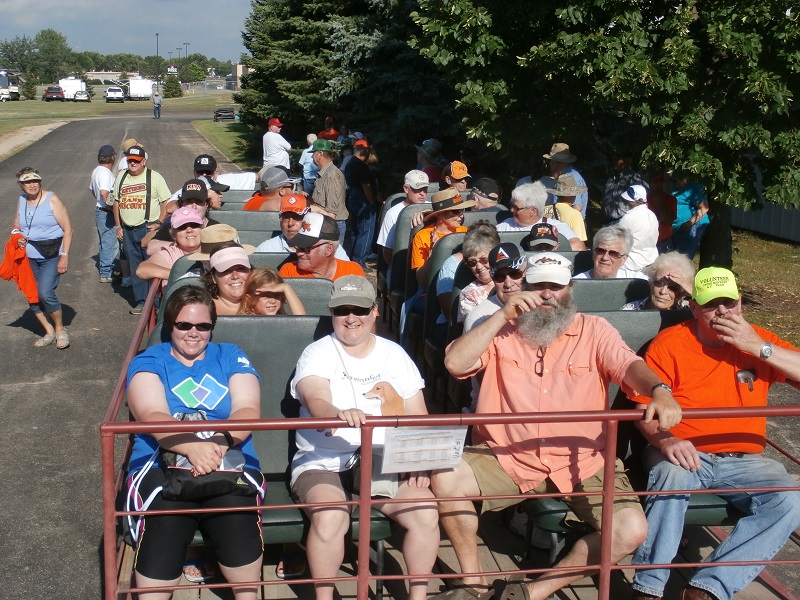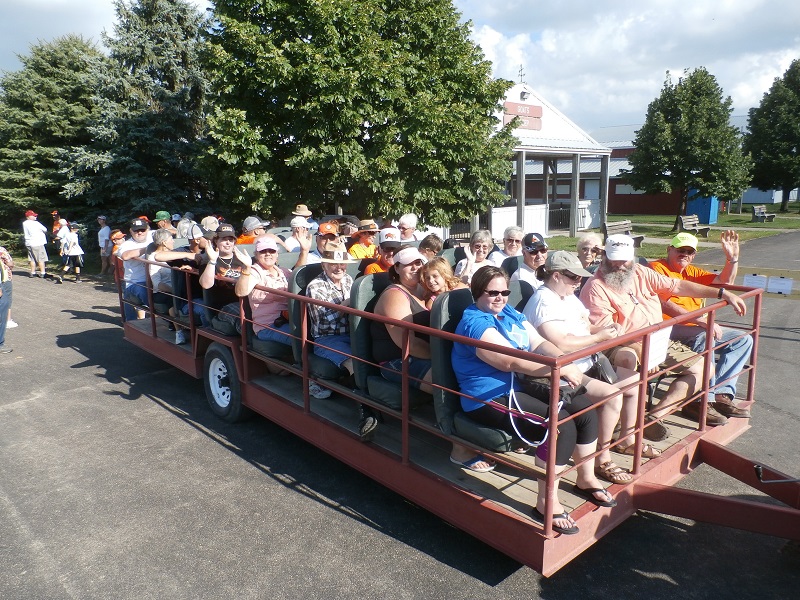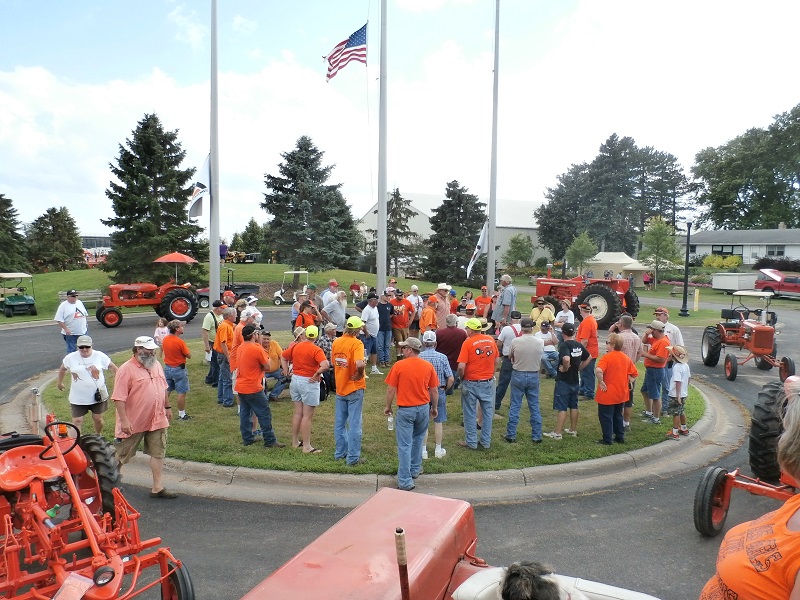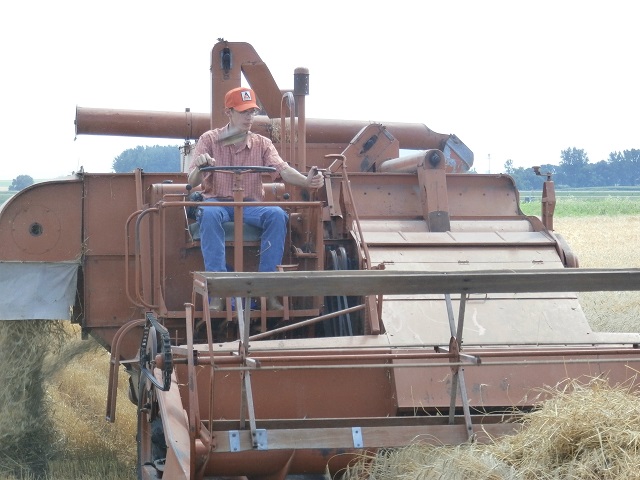 Tractor Ride drivers meeting at the show grounds gate A new field demo operator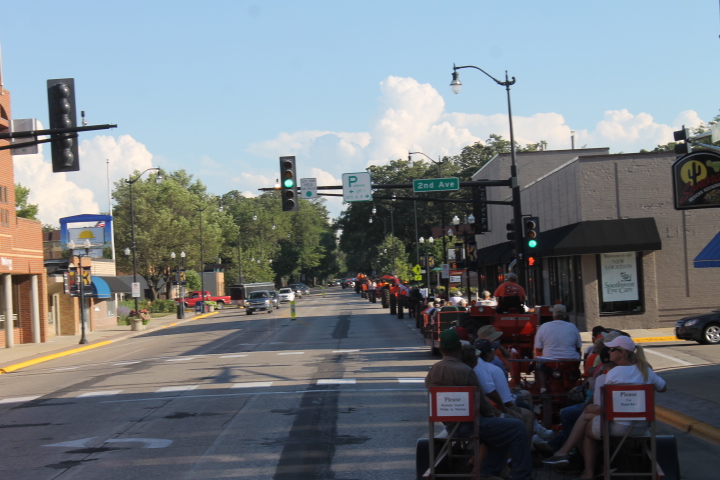 Main Street, downtown Hutchinson during Friday night's tractor ride
Next year we celebrate our 25 years....make it a family a affair and come a couple of days early to help set-up and enjoy the family and meet new friends. With some assistance, we can have these show grounds whipped into shape by the Thursday before the show!
July 13 - ATTENTION QUILTERS....If you or anyone is interested in participating in the 2016 Orange Spectacular Quilt Show...check out our page and plan to compete in the 1st annual quilt show during the 2016 Orange Spectacular....Our 25th Orange Spectacular Show. Click the link and check out all of the details!!!! http://www.orangespectacular.com/quiltshowandrules.html
February 1st - Where are they?? As the Upper Midwest A-C Club prepares to celebrate the 25th Anniversary of the Orange Spectacular, we are looking at special events (we need your ideas too). So to help celebrate this milestone, the club would like to find the winners of OR the present owner of our past raffle tractors. It will be quite a feat, but have as many if not all, of the past raffle tractors on the showgrounds on the 4th weekend of July 2016. We need your help....do you know the following winners or do you know where the following winners/tractors are?
Show of 1994 - The "B" raffle tractor was won by Bill Becker of Foristell, Missouri
Show of 1995 - 1944 "C" Allis-Chalmers - Ted Nichols of Elk River, MN. Was called by phone
Show of 1996 - CA Allis, Anton Peltzer of Ramsey, MN
Show of 1997 - Raffle tractor "G" – Ray and Lois Tuma, Lonsdale, MN
Show of 1999 - D- 12 – Glenn Sider, Canada
Show of 2000 - 1959 D-10 - Nancy Dobratz - Watertown, MN
Show of 2003 - WD 45 Diesel Tractor, Philip Lewis – Louisville, IL
Show of 2005 - AC D-17, Duane Campbell, Currie, MN
Show of 2007 - AC 1952 IB, Has been sold to Chuck Smith, Oelwien, IA
Show of 2009 - AC 1962 D-10 Series II, Douglas Anderson, Finland,MN
Show of 2010 - Series II, D-15, Brandon Bursack - Canby, MN
If you know any of the above posted winners OR where the past raffle tractors are...PLEASE, contact me as soon possible, so we can plan to coordinate to have these tractors on the grounds for display in 2016. Contact me by phone at (715) 723-1908 or at rlarson@orangespectacular.com . As for winners not posted, I have their contact information available. I plan to personally invite them to attend our 2016 show and bring their prized possessions, including the raffle tractor of that year. We appreciate your cooperation and assistance!

January 20 - Ladies....we have a quilt contest coming up! We will be featuring AND displaying the competing quilts at the 2016 (our 25th Anniversary) Orange Spectacular show. Intersted in making a quilt and being part of this exciting event? Please see the details on the side menu and click on the like "2016 Quilt Show and Rules". It is just not quilts...there are OTHER CATEGORIES, too!!!! Check it out!!!!!!!!!!!!!!!


2016 has become closer to becoming reality....July 2016 is the Orange Specatacular's 25th Anniversary....Your board of directors wants to make this 25th show to be a real milestone!!!! Can you help with making the 25th a huge success? Let me know if you could help take on a couple of activities/ideas for coordination? We are looking for an Anniversary Committee to come to together, come up with ideas, designate respondsibilites to other assistants, etc... Communication with this committee can be done with email and phone calls....I would be MORE THAN HAPPY to assist the Anniversary Committee in any guidance....we are only a 1 year away....