February 11 - It is not an Allis-Chalmers but it is a Big Bud pulling 21 bottom plow...you have to appreciate the horsepower being created....https://www.youtube.com/watch?v=fcXEOjdjJP4
February 11 - Check it out...Our 2016 show toy order form is online!!! Look at the left side of our web page or click on the following link http://orangespectacular.com/2016showtoy.html The prototype is found below and along the right side of the show toy page Orders need to be in before March 31
February 10 - Please take a second tomorrow, February 11, to call or email Gary Agrimson mailroom@agrimsontool.com (763) 566- 3446 .....and wish him "Happy Birthday". Thank you!!
Gary has been involved with the Upper Midwest A-C Club and with uncountable people who are involved with Allis-Chalmers for many years. Gary has much talent which is "second to none". He has manufactured specific parts which are obsolete, found parts "unknown to man", has given advice, makes sure we have our special designed cakes at our Fall Banquet, repaired tractors and their parts, repaired equipment, knows roto-balers inside and out, given lectures about harvesting equipment, injection pumps along with other subjects at our show; owns many pieces of equipment and tractors which he dedicates himself to haul these special unique pieces to the show to share with our many guests who attends the show, makes sure all the equipment is field ready for the field demos at the show, the list goes on and on........... "Gary, we can't thank you enough for your dedication to the Upper Midwest A-C Club and the Allis-Chalmers family worldwide. Your heart is huge and we appreciate your knowledge and ability to maintain the Allis-Chalmers history. Without you, our show and field demos would not be what it is if it wasn't for you. Happy Birthday, Gary."
February 7 - Do you want your name on this lawn tractor shown below, after the restoration? Buy a ticket as shown below. You can give donations in $5.00 increments for sponsorship. Any questions, please call Ken Holz at (651) 437-8786. We appreciate your support!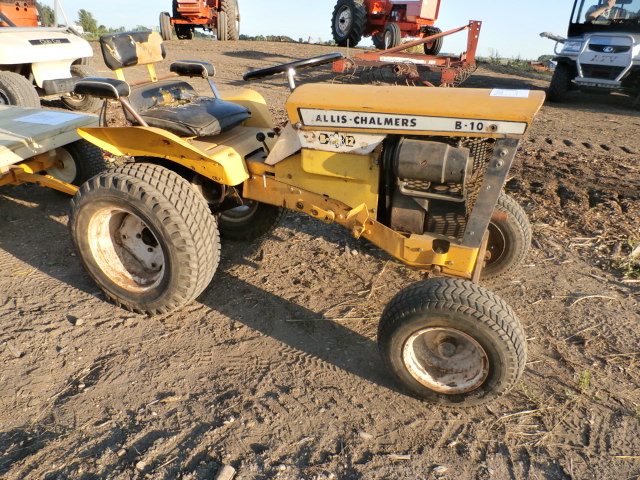 Help sponsor the Upper Midwest A-C Club's Scholarship
February 6 - We are trying to locate some volunteers which would register tractors and personal transportation units on Thursday, Friday, any Saturday until noon during the show. Please think about giving just two (2) hours of your time.
January 31 - Sympathy to Mat Wosmek and Rita Everhart's family. Rita is our Children's Coordinator, On Friday morning her grandma Latzig passed away. Rita, our thoughts and prayers go out to you!
January - 29 - A-C itself officially turned out the lights and locked the gates to the West Allis plant on January 29, 1989 - closing out a very long and storied chapter in American industrial history.
January 24 - 2016 has become closer to becoming reality....July 2016 is the Orange Specatacular's 25th Anniversary....Your board of directors wants to make this 25th show to be a real milestone!!!! Can you help with making the 25th a huge success? Let me know if you could help take on a couple of activities/ideas for coordination? We are only a 6 months away....
January 23 - QUILTERS!!!!! WHERE ARE YOU???? There is going to be quite a quilt show this year at the show.....besides the contest/raffle, there are speakers/seminars, MANY door prizes/raffle (buy your tickets at the Quilt Show area) and demonstrations!!!! Many quilts will be on display!!!! The 2016 Quilt Show and Rules can be found on the left side of this page or click on this link http://orangespectacular.com/quiltshowandrules.html and view the rules....prizes, seminars, and list of activities. Questions??? Check out the page for the contact information http://orangespectacular.com/quiltshowandrules.html
January 23 - ATTENTION, please check out this link http://orangespectacular.com/AnniversaryBBQ.html Please, check out the 25th Anniversary Celebration BBQ registration form is on the left side of this web page....OR click on the above link....to get the information of the BBQ. You can print the form and send it to the address on the bottom of the form. Feel free to call one of the phone numbers on the bottom of the form/page.
January 23 - As we approach our 25th show of the Orange Spectacular, we are looking for new and more volunteers. We need your assistance on Tuesday, Wednesday, and/or Thursday (I am trying to have the grounds all set up by Thursday noon).....the more hands, the less hours a couple of people have to do for long daily hours of set-up. Please consider....Even if you can give us two (2) hours....please consider...
January 23 - Whew, the cold is leaving our area, but for our friends in the East.....we are thinking of you all! To any of you readers, have any snow removing pictures, please email them and I will post rlarson@orangespectacular.com Thank you!
January 23 - Could we have at least four (4) volunteers who would be interested in lending a hand to help? We need some volunteers to split some shifts to help sit at the south entrance, of the show grounds during the show, to register tractors and guest's golf carts as they arrive on Thursday afternoon, Friday and at least half of Saturday, PLEASE? You could be seated at the Swap Meet registration area....or somewhere you feel would be an effective place to register the units and hand out our participant plaques. Thank you for your consideration....please contact me at rlarson@orangepsectacular.com or at (715) 723-1908 to help fill the open schedule.
January 20 - ATTENTION !!! We need stories for our newsletter!!! Just a 1/4 of a page of history of something...How do you set-up a snap-coupler plow??...What is the history of a specific tractor model??...How many different models of pull-type plows??...How did you get into collecting??...What models for tractors do you have or why do you a specific model in your collection??...What model are you looking for??...etc.....
We need you! As of right now, we don't have any articles for the newsletters! Let's pull together and have another informational and enjoyable reading newsletter.
Can someone help our Children's Activity Coordinator, Rita, to conduct a scavenger hunt, please? Please contact Rita for your assistance.
January 20 - We are looking for a new director on the board of directors. Darrell Grams, Sr. has not planned to continue into another term. Plan to be more involved in the club.....you
January 17 - Ladies!!!! (and Guys-PLEASE share this information with your other half) There are a LOT of special plans for the quilt show this year! Keep an eye on the side of this page (2016 Quilt Show and Rules). As new information and exciting training sessions, many unique ideas, vendors and many display...WITH the Quilt Show and raffle! Click on the link to see more information about the show and raffle...WATCH FOR NEW UPDATES http://www.orangespectacular.com/quiltshowandrules.html
Best get started on your quilts for the contest!!!
Janaury 17 - Where are they?? As the Upper Midwest A-C Club prepares to celebrate the 25th Anniversary of the Orange Spectacular, we are looking at special events (we need your ideas too). So to help celebrate this milestone, the club would like to find the winners of OR the present owner of our past raffle tractors. It will be quite a feat, but have as many if not all, of the past raffle tractors on the showgrounds on the 4th weekend of July 2016. We need your help....do you know the following winners or do you know where the following winners/tractors are?
Show of 1994 - "B" raffle tractor was won by Bill Becker, Foristell, Missouri
Show of 1995 - 1944 "C" Allis-Chalmers - Ted Nichols, Elk River, MN.
Show of 1996 - CA Allis, Anton Peltzer, Ramsey, MN
Show of 1997 - "G" – Ray and Lois Tuma, Lonsdale, MN
Show of 1999 - D- 12 – Glenn Sider, Canada
Show of 2000 - 1959 D-10 - Nancy Dobratz - Watertown, MN
Show of 2003 - WD 45 Diesel Tractor, Philip Lewis – Louisville, IL
Show of 2005 - AC D-17, Duane Campbell, Currie, MN
Show of 2007 - AC 1952 IB, Has been sold to Chuck Smith, Oelwien, IA
Show of 2009 - AC 1962 D-10 Series II, Douglas Anderson, Finland,MN
Show of 2010 - Series II, D-15, Brandon Bursack - Canby, MN
If you know any of the above posted winners OR where the past raffle tractors are...PLEASE, contact me as soon possible, so we can plan to coordinate to have these tractors on the grounds for display in 2016. Contact me by phone at (715) 723-1908 or at rlarson@orangespectacular.com . As for winners not posted, I have their contact information available. I plan to personally invite them to attend our 2016 show and bring their prized possessions, including the raffle tractor of that year. We appreciate your cooperation and assistance!
January 17 - Are you interested in being more involved with the Upper Midwest A-C Club? Are you interested in learning some leadership skills? Are you interested in helping make decisions for the future of the Upper Midwest A-C Club and the Orange Spectacular? Are you interested in helping to assist in making this club and show bigger and better? Are you willing to help continue the existence of the Upper Midwest A-C and the Orange Spectacular?
Notice of Spring Election
Upper Midwest A-C Club
NOTICE IS HEREBY GIVEN that at an election to be held in Hutchinson, MN at the McLeod County Fairgrounds, Country Diner, April 9, 2016, the following offices are to be elected to succeed the present incumbents listed. The term for board member begins on April 9, immediately after election results are tabulated and made public. All terms are for 3 years.
Office Incumbent
Board Member Lynn Bushard
Board Member Darrell Grams, Sr.
NOTICE IS FURTHER GIVEN that nominations will be accepted up to the closing of nominations, per the agenda, at the April 9th spring meeting. Nominations and a simple biography can be emailed to rlarson@orangespectacular.com or please contact me at (715) 723-1908 for other arrangements.
Done November 30, 2015
Randy Larson, Club President
January 16 - Members and friends of the Orange Spectacular and the Upper Midwest A-C Club. The board of directors met today and discussed business of the upcoming 25th Anniversary show and there was one BIG issue which came up over and over.....THE SHOW NEEDS MORE ASSISTANCE FOR SETTING UP FOR THE SHOW....
1.) We are challenged to get help for our vendors to bring in their goods for the toy show/sales, so the board has agreed to pay youth, individually, to help those vendors tote the boxes of goods into and out of the Toy and Craft Building.
2.) We need adult assistance to help Rita, our Children's Activity Coordinator, to relieve her and others during the show. For more information, please feel free to contact her to find out where she can use your assistance. Please contact Rita at ritaeverhart@hotmail.com (612) 618-8593
3.) Set-up in the "front end"...this being the show grounds where the tractors are on display and where many of our guests relax during the show. I need help to set-up this area. Last year, three (3) of us set-up this part of the show....this was too overwhelming. Working more than 14 - 16 hours per day for 4 days is too much....we can reduce these hours per person if we get some more help starting on Tuesday.
We need more help in may different areas of our show grounds for set-up, assistance during the show, and tear-down. Not asking for days of assistance, just an hour here and there. Assistance for helping is as simple as being there to relieve a person so they can take a 1/2 hour break....any help from a day's worth to a 1/2 hour is worth a lot! Areas of assistance are: a.) set-up grounds, b.) golf cart rentals, c.) ticket sales, d.) memberships, e.) children's activities, f.) tractor registrations, g.) ladies activities, h.) people mover drivers/transportation....Please look at the left side of this web page for "SHOW CONTACTS" to find an area which interests you and give that coordinator a call to get more information and sign-up.....you help would be much appreciated!!!! Or give me a call and we can help answer your questions.....Randy Larson at rlarson@orangespectacular.com (715) 723-1908. Please consider the future of the Orange Spectacular......
Ladies - Attention as to let you all know our Quilt Committee is working hard and is being successful in finding vendors which plan to participate during our show. The plan are to have a vendor demonstrate a long-arm sewing machine, other special fabric suppliers...including Allis-Chalmers fabric. Stay tuned to find out more information about this new addition in our Ladies Activities area and to our show!
10/25 - ATTENTION QUILTERS....If you or anyone is interested in participating in the 2016 Orange Spectacular Quilt Show...check out our page and plan to compete in the 1st annual quilt show during the 2016 Orange Spectacular....Our 25th Orange Spectacular Show. Click the link and check out all of the details!!!! http://www.orangespectacular.com/quiltshowandrules.html
Ladies....we have a quilt contest coming up! We will be featuring AND displaying the competing quilts at the 2016 (our 25th Anniversary) Orange Spectacular show. Intersted in making a quilt and being part of this exciting event? Please see the details on the side menu and click on the like "2016 Quilt Show and Rules". It is just not quilts...there are OTHER CATEGORIES, too!!!! Check it out!!!!!!!!!!!!!!!